Description
Do you want to sell on Amazon using your Magento 2 website? Get the Amazon M2 Extension to link directly to Amazon API. Synchronize your products, stocks and prices, automatically import Amazon customer orders to Magento 2
► No third party services
► No Monthly Fees
► Time Payment including Free Support.
Product Overview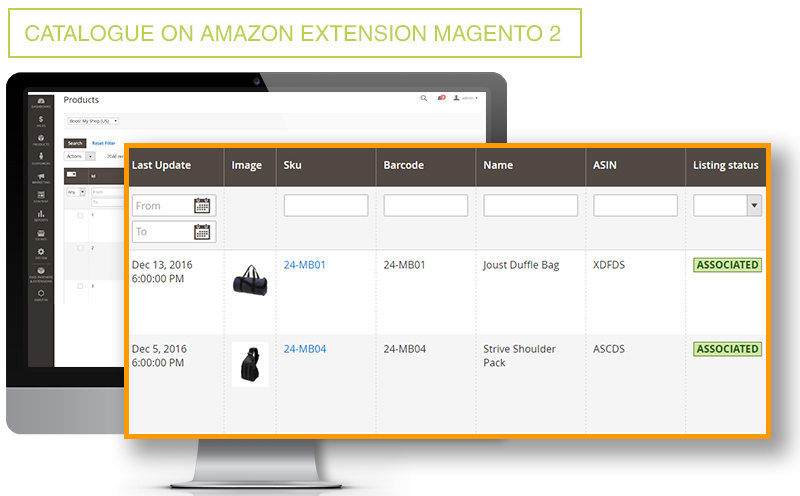 – Fully integrated in Magento2. Amazon for Magento 2 works as a Magento Module which is installed directly onto your server. You do not have to use any web or third party services.
– Highly configurable. The extension is a fully open resource which offers multiple set up options.
– Multiple Amazon seller accounts / multiple countries. For Amazon Power Seller, you can have different Amazon seller accounts working with only one Amazon M2 Extension and/or sell in Multiple Countries using one seller account.
UPC / EAN matching.
Save time when listing your products on Amazon Marketplace. Amazon M2 Extension will automatically match all products using the EAN/UPC product code. Coming soon: Products created in Magento 2 will be made exportable to Amazon (including category & attributes mapping)
Stock & Prices Update:
Continuous updates from Magento to Amazon. Your stocks and prices will be constantly updated and synced. This is a flexible function, so you can set different selling prices on both Magento and Amazon.
Automatic Amazon Order Imports in Magento
As soon as you get a new Amazon Order, all information will be downloaded to Magento. Proceed with the order as usual and as soon as you confirm the shipment, tracking information will be sent to Amazon.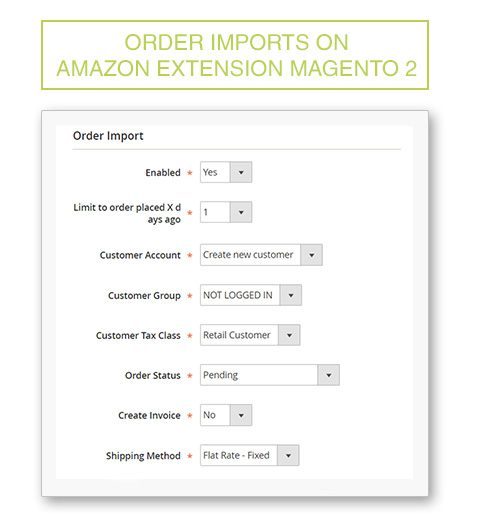 – Dashboard – See all your Amazon activity at a glance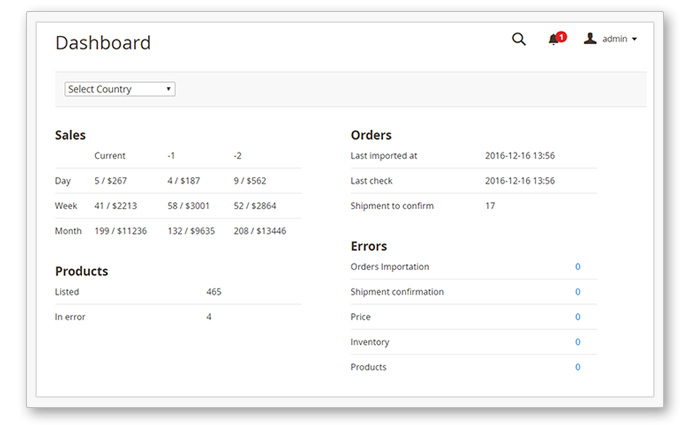 Product Details
Configuration
Amazon M2 Extension supports multiple Amazon seller accounts. Amazon M2 Extension can be configured individually by seller account and by country.
All set up and configuration can be completed for each individual account.
Dashboard
– Turnover per day / week / month including turnover history
– Display statistics for products listed
– Customer Order Statistics (Imported / to ship)
– Error reports
Product listing
• After first installation Amazon M2 Extension will download all products listed on your Amazon Seller accounts and sync them with your Magento products (Sku). You can use any product attribute possible for your Amazon account that is also possible for your Magento to do this.
• Matching with UPC / EAN. Mass select products then configure their attributes containing UPC / EAN code
o From Amazon to Magento. All products are automatically listed on your Magento account
o From Magento to Amazon. Export product and automatically match products you want to sell on when UPC / EAN code exists on Amazon.
• Stock and Price Update - Once a product has been listed, Amazon M2 Extension will automatically sync stocks and prices to both systems.
o Update frequency can be controlled through configuration (cron settings)
o Prices sent to Amazon can be based on the regular Magento Price or a custom setting. Amazon M2 Extension supports Magento's special price, tax rules and coefficients functions in order to sell at a higher or a lower price on Amazon
o Configure the stock sent to Amazon using regular Magento stock OR a custom setting.
o Suspending an offer can be temporary or permanent on Amazon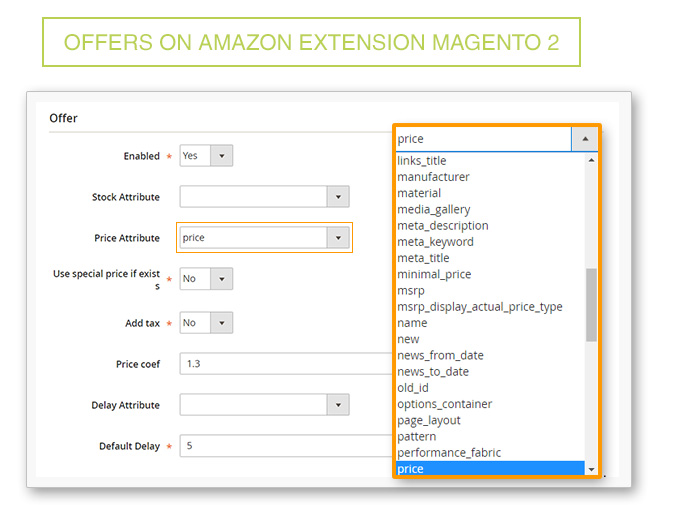 ---
Orders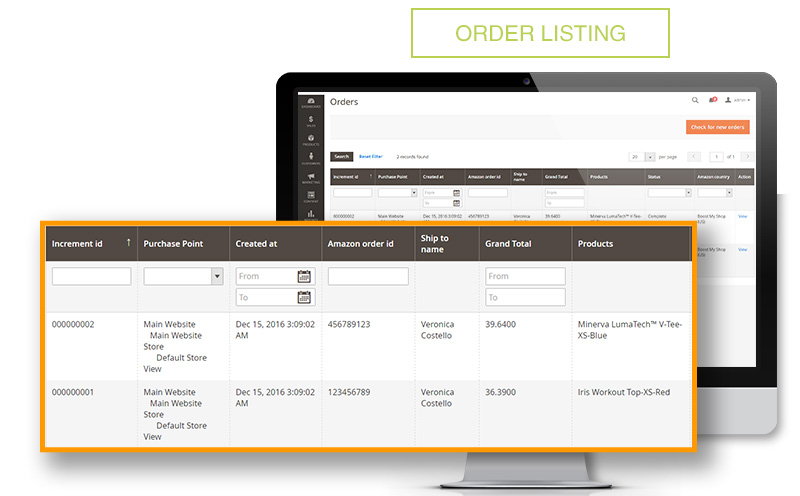 • New customer orders placed on Amazon are automatically downloaded to Magento. The Amazon M2 Extension will automatically create orders in guest mode or creates a new customer in Magento.
• Customer Invoices can be automatically created for each new order received from Amazon. You can select store, Order Status, Shipping and Payment Method.
• Once the order is shipped in Magento, Amazon M2 extension automatically confirms the shipment to Amazon Marketplace and uploads the tracking number.
Reviews
---
---