Integrations
with Boost My Shop Connect
The open architecture of Boost My Shop Connect allows for a fully functional fluid and optimised solution necessary for your activity.

The numerous native intégrations of Connect will allow for an immediate and instantaneous compatibility with your CRM, your accounting solution or even your PIM.

With Boost My Shop Connect you are implementing an essential solution which allows for perfect synchronisation and full compatibility of the entirety of your tools.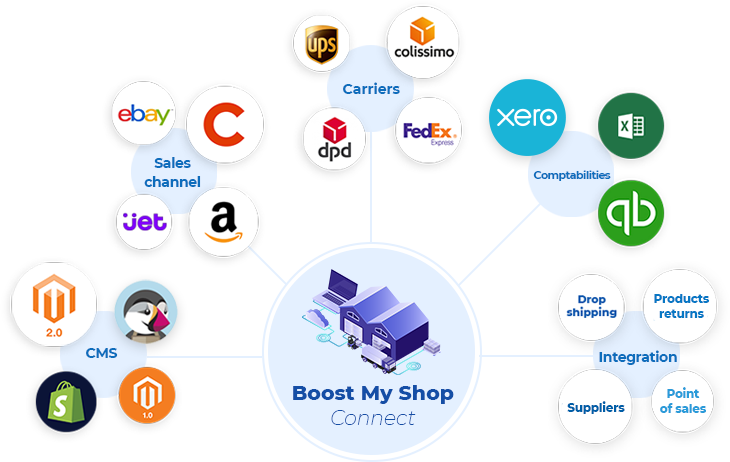 Boost My Shop Connect - ERP in SaaS and WMS eCommerce
---

Stock
Management
Barcode scanning
Manage multi-warehouse
Tracking and stock transfer
Stock take<

Procurement
Management
Supplier management
Purchase orders
Dropshipping
Supplier integration

Treatment
of orders
Picking list
Edit labels
Barcode scanning
Mass shipping

Contact us
---

Chat directly with our team in live

Centre d'Affaires Grand Var
1110 Chemin des Plantades, 83190 La Garde

+33 (0)9 72 28 64 51

contact[@]boostmyshop.com
---
Share and follow us !