Overview
Embedded ERP Magento 2 brings to e Commerce website a unique and efficient management tool for inventory management, suppliers management and order preparation.
Access all features directly from the Magento 2 management console. No Sync, no call to an external software or third party service is required. All functions are embedded in Embedded ERP Magento 2 offering the merchant a valuable time for effective management of all of its data and its flow.
Boost My Shop extending its expertise in the business of e-commerce for the benefit of functional tools, reliable and cheap.
From listening our customer needs was born Embedded ERP that since 2010 allowed more than 2,000 e-retailers to achieve total control of their supply in the heart of their Magento CMS.
Embedded ERP Magento 2 is covering 3 applications fields:
- Advanced Inventory - Inventory Management: Barcode Reading, stock tracking, multi-function deposits Stocks Transfer, System Alert (Low Stock) Features Inventory.


- Supplier Management - Monitoring Procurement - Purchasing: Add Supplier, Supplier Management, Tracking Purchase Price, Supply Needs (lean and low stock alerts), supplier purchase orders, receipts and stockpiling purchase orders, followed backorder)


- Order Preparation - Preparation of orders : Distribution of commands depending on the status of the stock pick list Edition (picking), Process preparation and printing (invoice, delivery note) mass preparation through reading bar codes, Automatic printing of transport labels.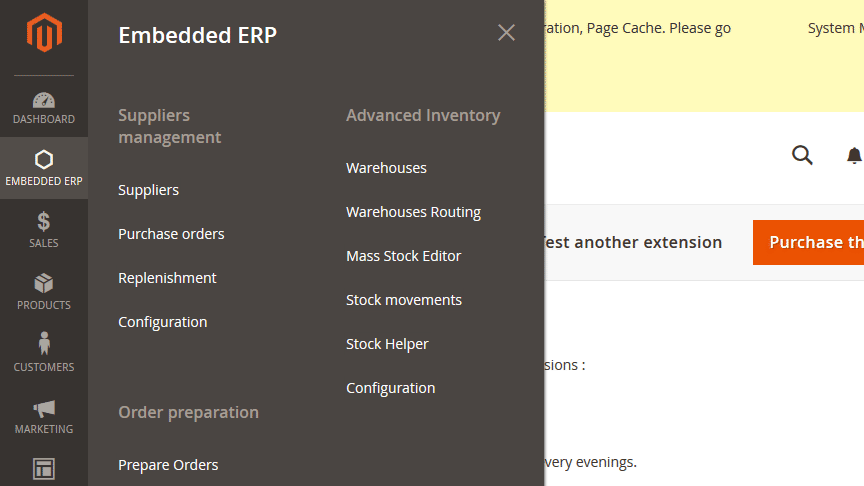 2 additional application fields are under development and will be available in the next release
- Orders Management: Availability Status by product, Planning of customer orders and planned delivery, availability of advanced options.


- Reporting / Dashboards: Graphics and Sheets, Sales Analysis by products or suppliers. Selection by criteria and choice of dates
Stock Management – Inventory Management
Embedded ERP for Magento 2 has all the essential functions of an ERP software dedicated to warehouse and inventory management (WMS): Monitoring and Tracking stocks whatever the product, addressing, native integration of barcode reading.
Multiple Stock, Routing
Embedded ERP Magento 2 integrates multi inventory management. This function may be essential in the following cases:
- Geographically separate physical Warehouses
- Separation between a physical store stock (Mortar) and a dedicated stock for sale online
- Import and interfacing supplier stocks
- Stock Defective products (Coming from RMA)
- Stock lending products
You can create an infinite number of physical or virtual deposits. Each submission is assigned a function as to whether the products associated with it are salable, deliverables, requiring changes ...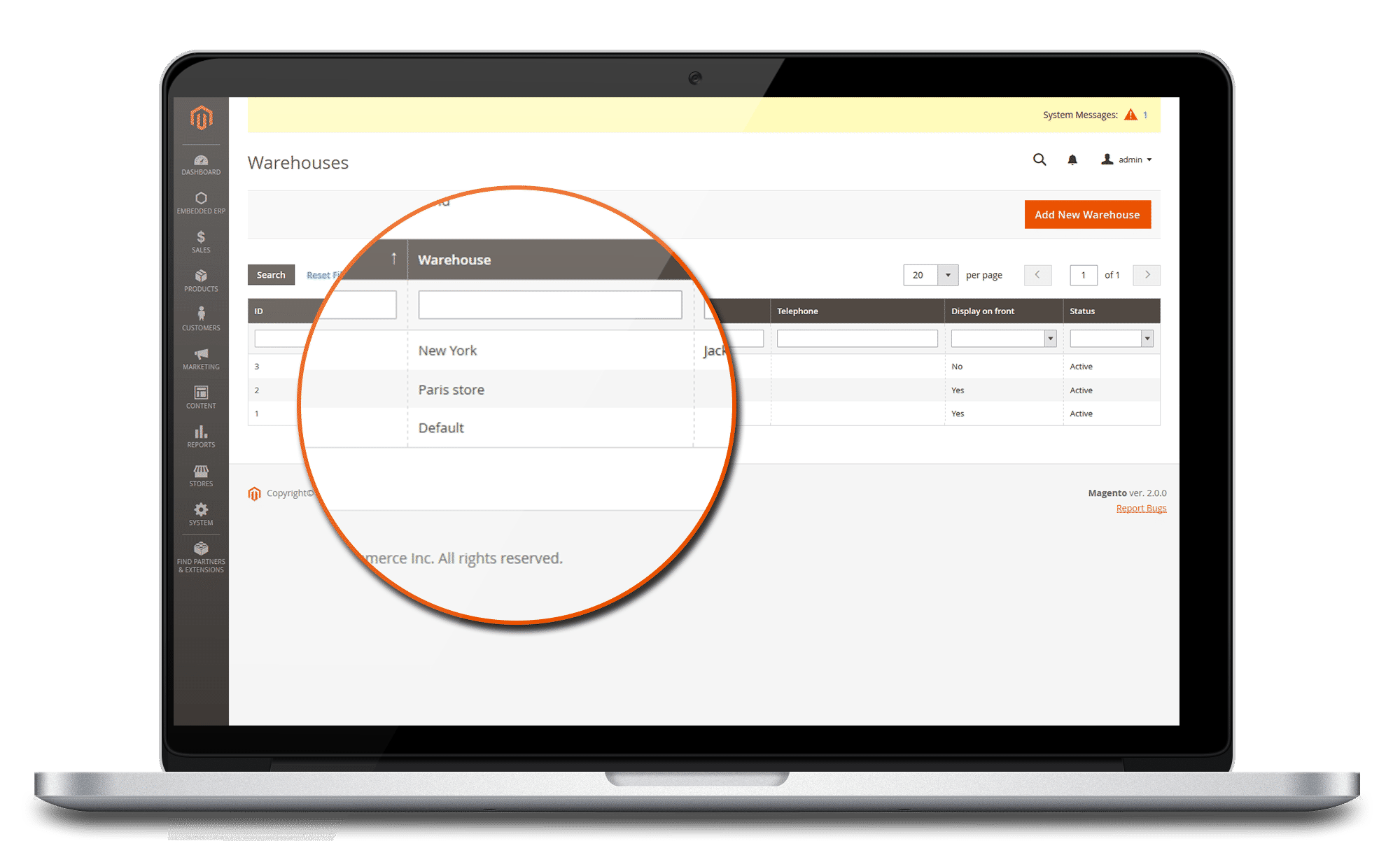 Embedded ERP Magento 2 has a function "Router" which assigns a deposit the proceeds from a sales order. You can create rules (Choosing a favorite warehouse, Depending on the level of stock available ...) to automate the distribution (routing) of customer orders.
For the same product (sku) different stock levels may beings awarded based on warehouses. So with this router you will be able to specify a total amount available of the product which will be the sum of all warehouses in which an amount of this product is available
Stocks Levels
It is possible to assign four levels of specific stock in Embedded ERP for each product
- Physical inventory: The total amount of a product physically present in a warehouse.
- Stock available: The physical inventory less orders expectations: this is the amount you can sell.
- Stock Alert: level below which you wish to be informed to make a buying decision
- Ideal Stock: comfortable stock level which ensures that your product will not fall out within a specified and configurable delay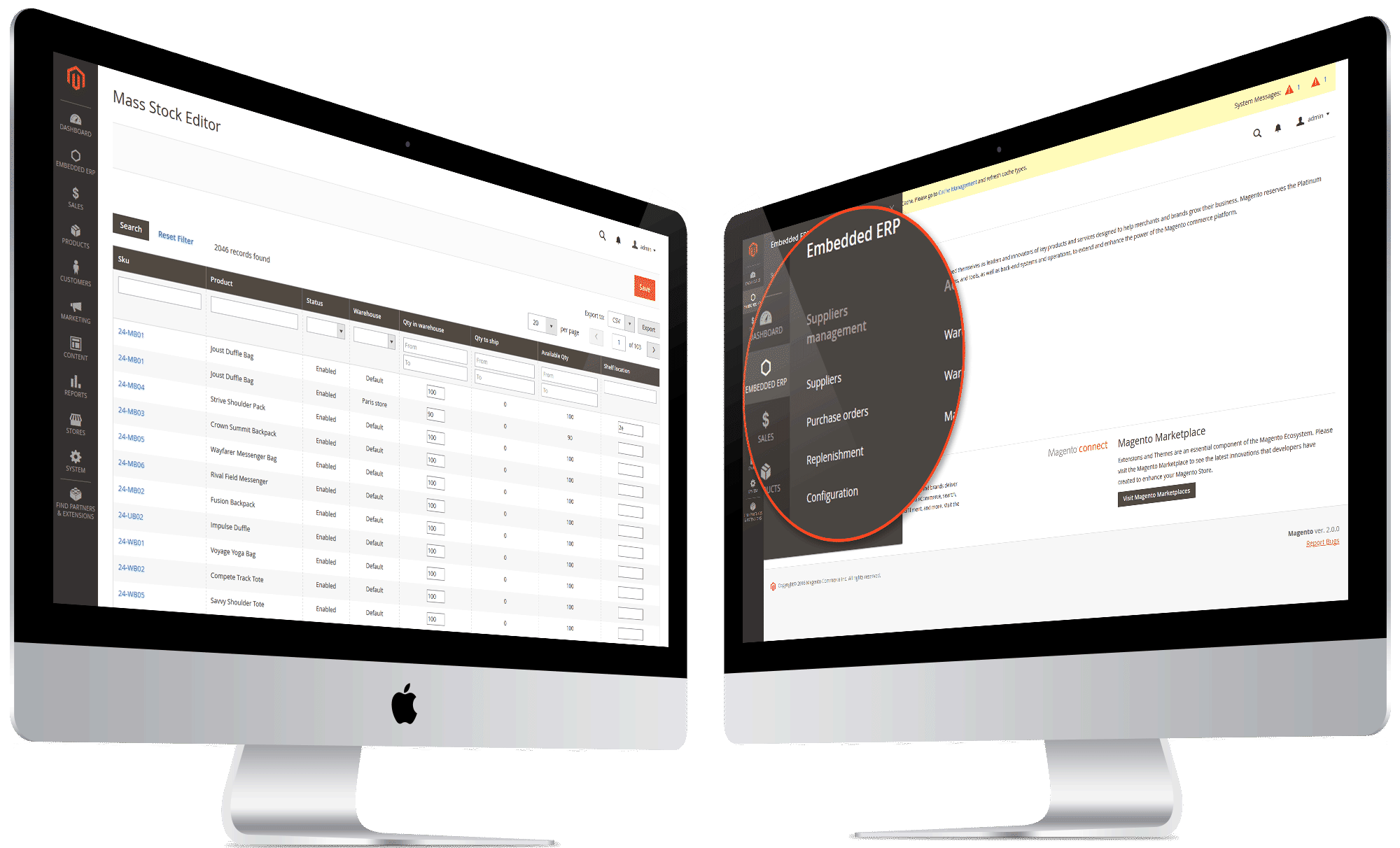 Stocks movements
A rigorous and fair inventory management is essential for a successful eCommerce. Embedded ERP for Magento 2 keeps track of each stock movement whatever the nature of transaction: shipping a sales order, receiving a purchase order, Money Back Product Suite.
Stock movements are precisely identified the user indicating the origin of movement and a description (mandatory) for all common operations. A manual mode also lets you create a stock movement.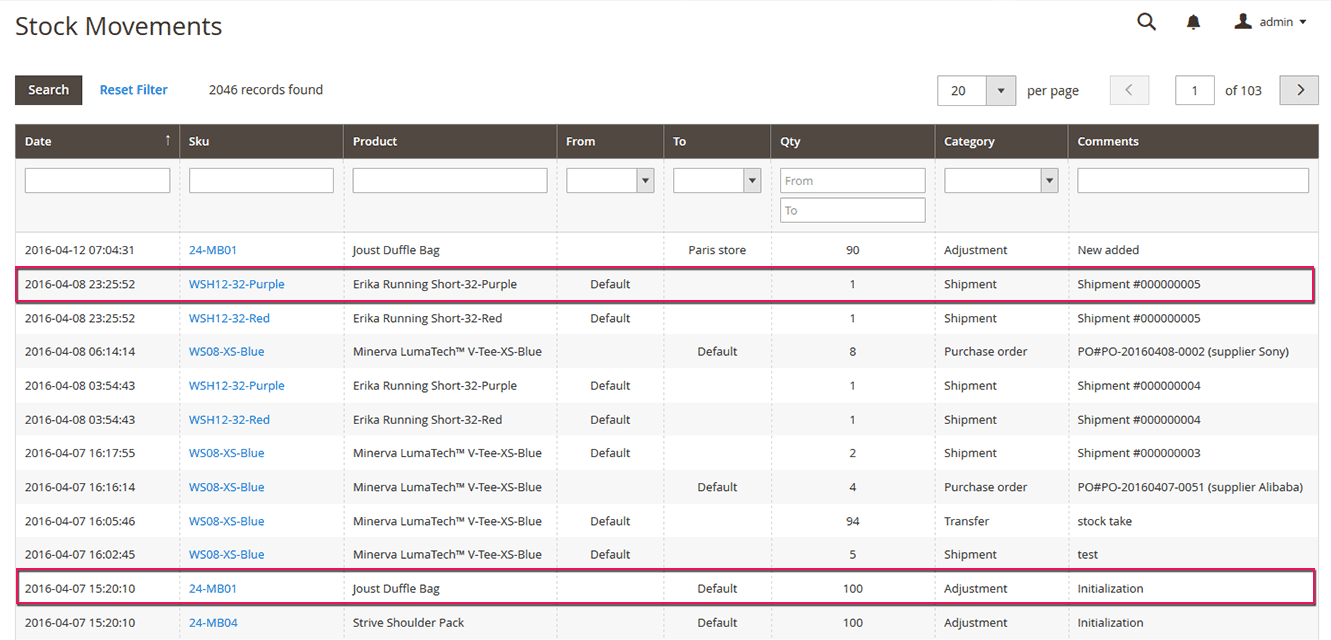 Products Booking
For each new customer order, Embedded ERP activates a reservation mechanism of the product(s) ordered based on available stock.
Embedded ERP determines immediately shippable orders and those for which the products are awaiting reception.
Once a product is added to the stock it is therefore immediately and automatically reserved and assigned to customer order waiting for delivery
Mass Stock Edition
Mass Stock Edition function allows quick modification of information about the stock for a set of products.
It is thus possible to simultaneously edit an alert threshold level or a location for several products.
Sales History
Find in Embedded ERP for Magento 2 sales statistics into 3 configurable periods.
The internal algorithm determines the ideal stock for a given product and the stock alert below which a supply need is created.
Import / Export Datas
Export your stock statements for accounting purposes to determine its value.
Import your inventory simply to initialize an inventory in Embedded ERP.
Purchase
Embedded ERP for Magento 2 brings advanced features for supply management and the management of the supplier relationship.
You can optimize your inventory restocking through the Low stock function and achieve lean sales.
Supplier Management
Simply create your supplier base in Embedded ERP.
Fields available for the identification of Supplier:
- Name
- Address
- email (for sending orders and requests for quotations)
- Delivery time (default)
- Currency (default)
- Tax (%)
- Discount (%)
Further information available from the Management tab
- Minimum Order
- Franco threshold Port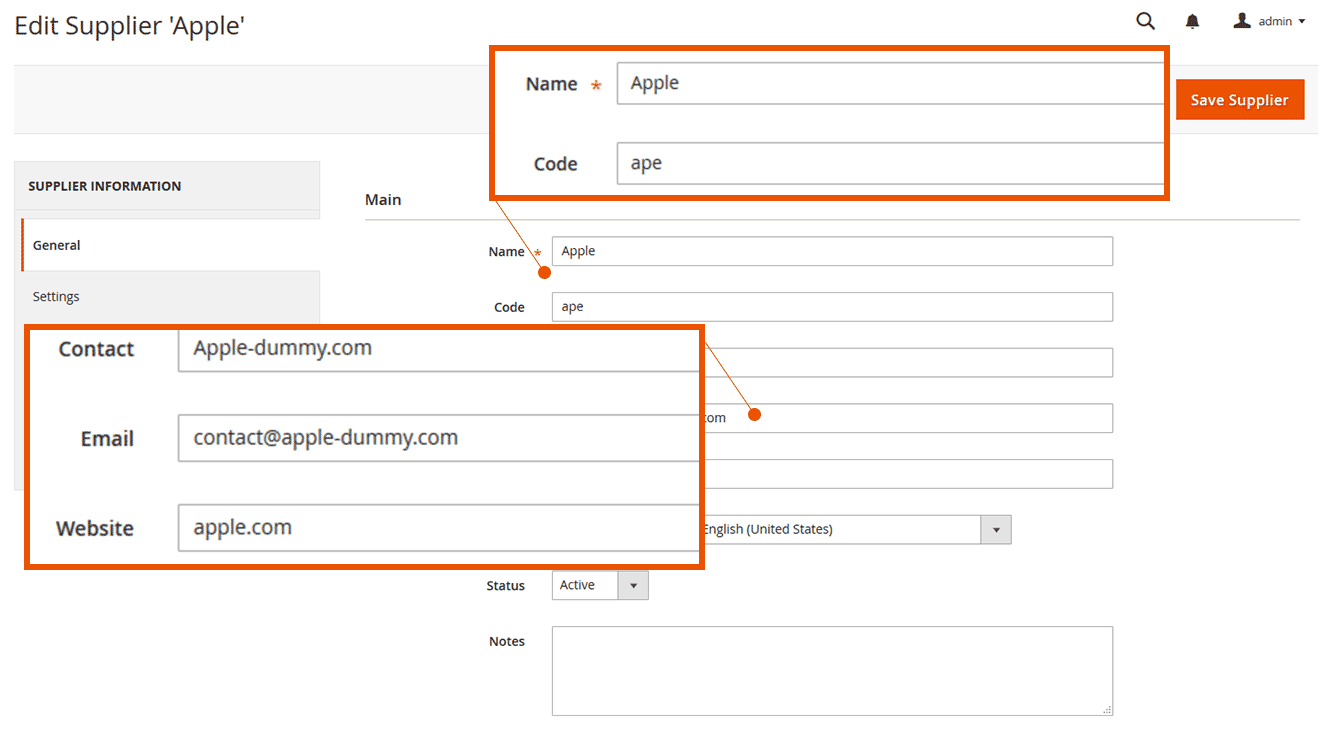 Product / Supplier Association
For Each product created in Magento 2 you can associate one or more suppliers in Embedded ERP. A reference specific supplier and a purchase price may be associated with this product.
The list of supply requirements is filterable by vendor and product. So you quickly create purchase orders in the supply needs screen by selecting only the products available from a given supplier.
Embedded ERP adds multiple suppliers for a given product, each supplier having its own reference, for a purchase price or a specific discount rate.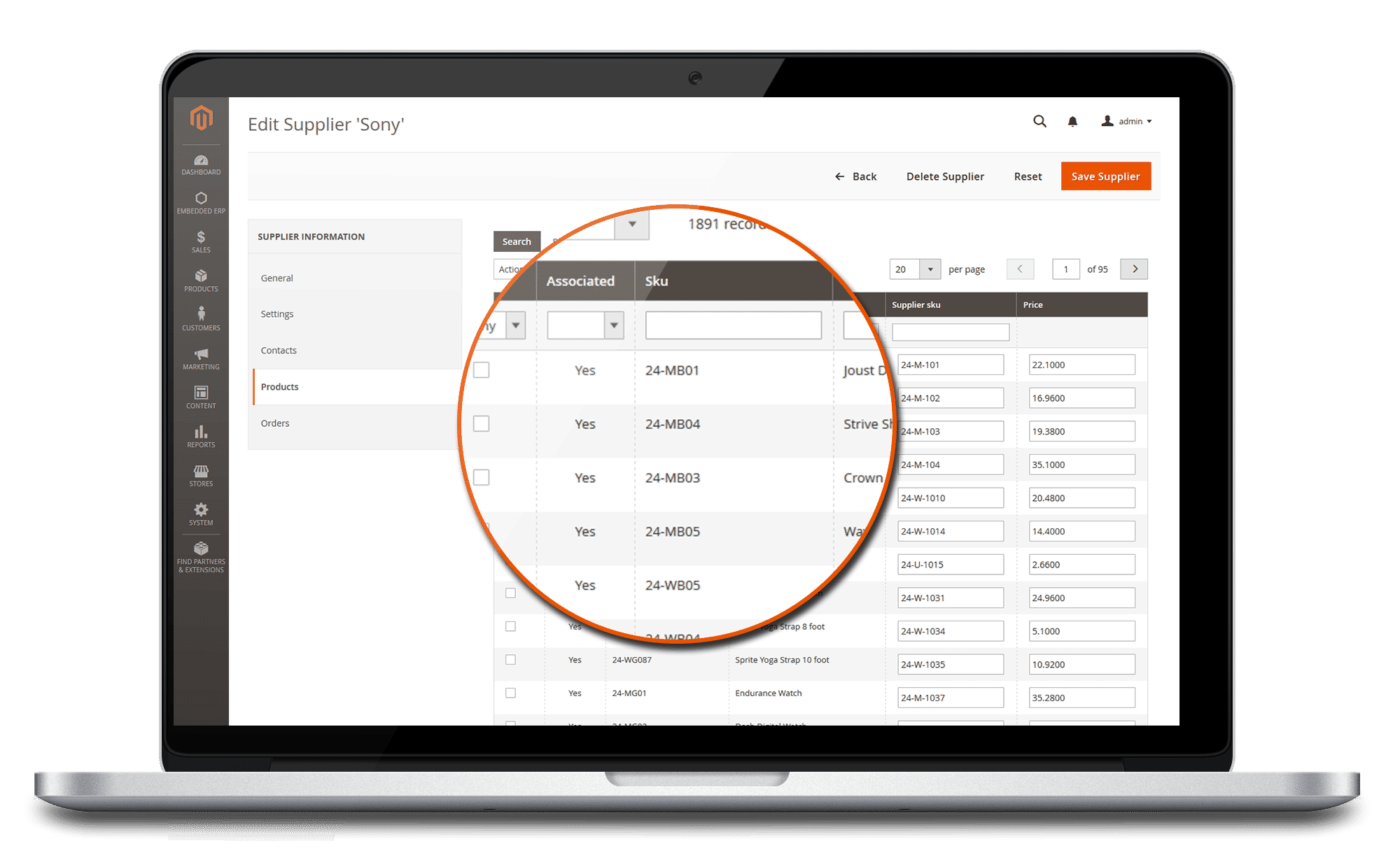 The product / supplier base can be powered from a csv file, manually or automatically: Whenever you create a new purchase order, Embedded ERP updates the database for future use.
You can easily find your latest purchase prices to any new order.
Supply Need Management
While sale is primarily good buy. Management supply needs is an essential functionality of Magento 2 Embedded ERP.
From the Supply Needs screen you instantly find:
- Products sold out of stock
- Products for which stock is below the warning threshold
An Alert Management System tells you via a status the reason for the alert.
Quickly create from the Supply Needs screen a temporary PO (Draft) by selecting and adding products to buy based on the supplier or manufacturer.
Create Purchase Order
A purchase order can be created from the Supply Needs screen
Available field for a PO:
- Currency, Tax Rate, Exchange Rate
- Unit price
- Quantity, Packing
- Shipping cost
- Forward-Looking Date of Delivery
- Reference Order Supplier
Products can be added to the order manually, from the supply need screen or importing an external file.
Finalized a purchase order can be automatically printed or sent by email (PDF file or Excel attachment) to contact designated supplier in the system.
Order tracking: Various status are possible to manage the progress of purchase orders (awaiting validation Payment Pending, Pending receipt ...)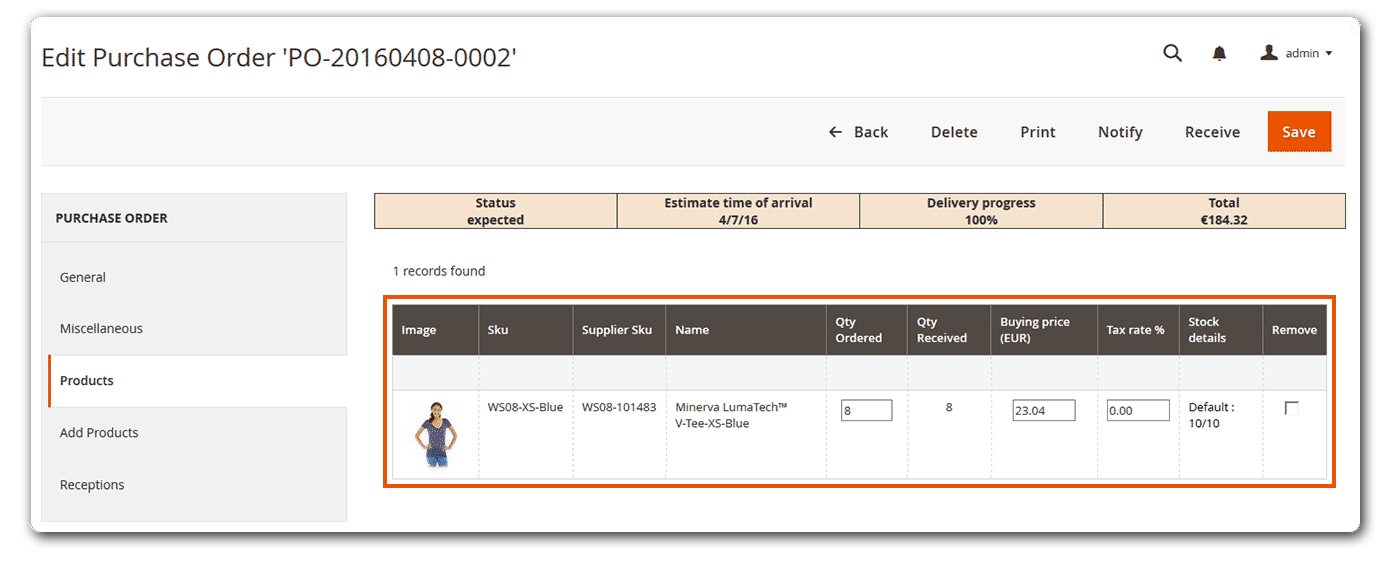 Purchase Order Delivery:
When a purchase order is received full or partial delivery can be created in your system.
The step of receiving the goods can be performed manually or through the use of a barcode reader. A purchase order receipt can be partial (if all products delivered not received) or complete. The goods quantity received from a purchase order is also expressed as a percentage.
Goods received can be assigned to the desired stock. Upon receipt validated the products are in stock and become available for sale on the site.
Received a defective product can be assigned to a specific stock not available for sale.
Remainders: A dedicated screen shows by supplier products awaiting reception.
Order Preparaion
Picking / Packing / Shipping Status
Embedded ERP for Magento 2 included a preparation support tool and shipment of customer orders.
It is possible to process orders using a barcode reader pledge of security and productivity.
Several order pickers can work simultaneously, each on a list (picking) defined.
Because each eshop is unique Embedded ERP extension is highly configurable and customizable so ensuring a perfect fit for the way you work.
Custom and Chose your Order Preparation Process
Customize the Embedded ERP order processing tool based on the number of commands to prepare or number of warehouses you have.
The following processes can be realized by mass (Batch Treatment) or command by command (Processing Unit)
- Selection and preparation of orders
- Generating and printing delivery notes, invoices, preparation
- Printing packing list
- Enveloping via bar code Reading
- Impressions of carrier labels
- Shipping Notification customers by email, sending the tracking number (Tracking)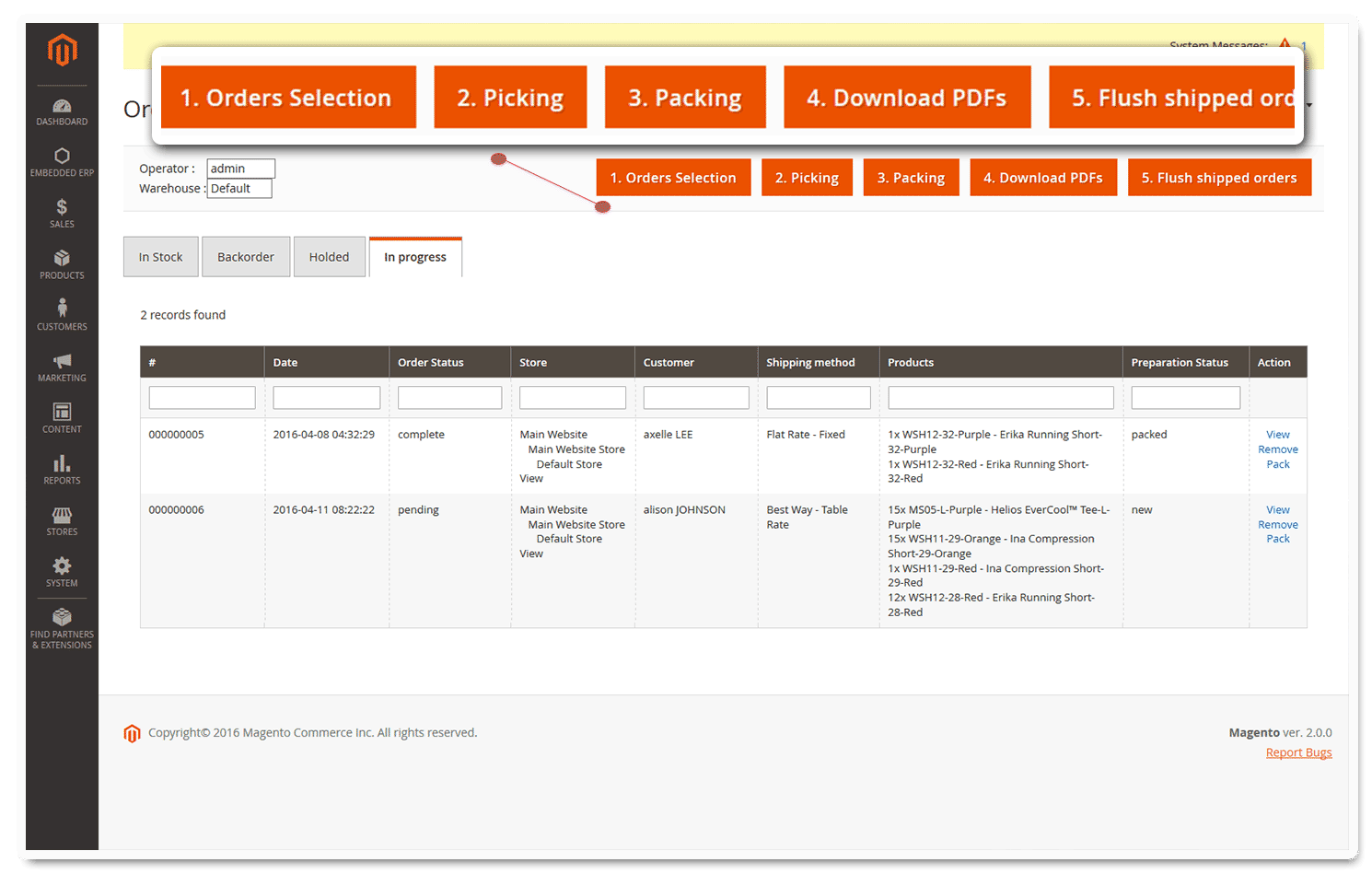 What Customer Order to Ship?
By integrating the suppliers and Stock management, Embedded ERP for Magento 2 optimizes the order preparation by automatically assigning the stock to orders to ship.
Products are chronologically assigned to customer orders date
In Stock: Customer orders where all products are available and can be processed normally
Backorders: Orders with at least one product is missing (Remainder)
Holded: Orders that have been suspended following an administrator action for a number of configurable criteria (unpaid order, command blocked, particular customer group)
In Progress: Selected orders to be processed and shipped
Picking List
From the In Progress list the operator can print a packing list showing all the products to be picked for shipment in a particular warehouse. This list can display product information: Gen(EAN), Picture, Quantity or location (path A, row B, C shelf)
The picking list may be unique grouping all the customer order that optimizes the way in the warehouse or individual by order for optimum safety
Packing
The use of a barcode reader is recommended for packing phase.
Before packaging a product to ship operator performing a barcode scan ensures that the product is 100% hand products to ship. On error an audible and visual warning is issued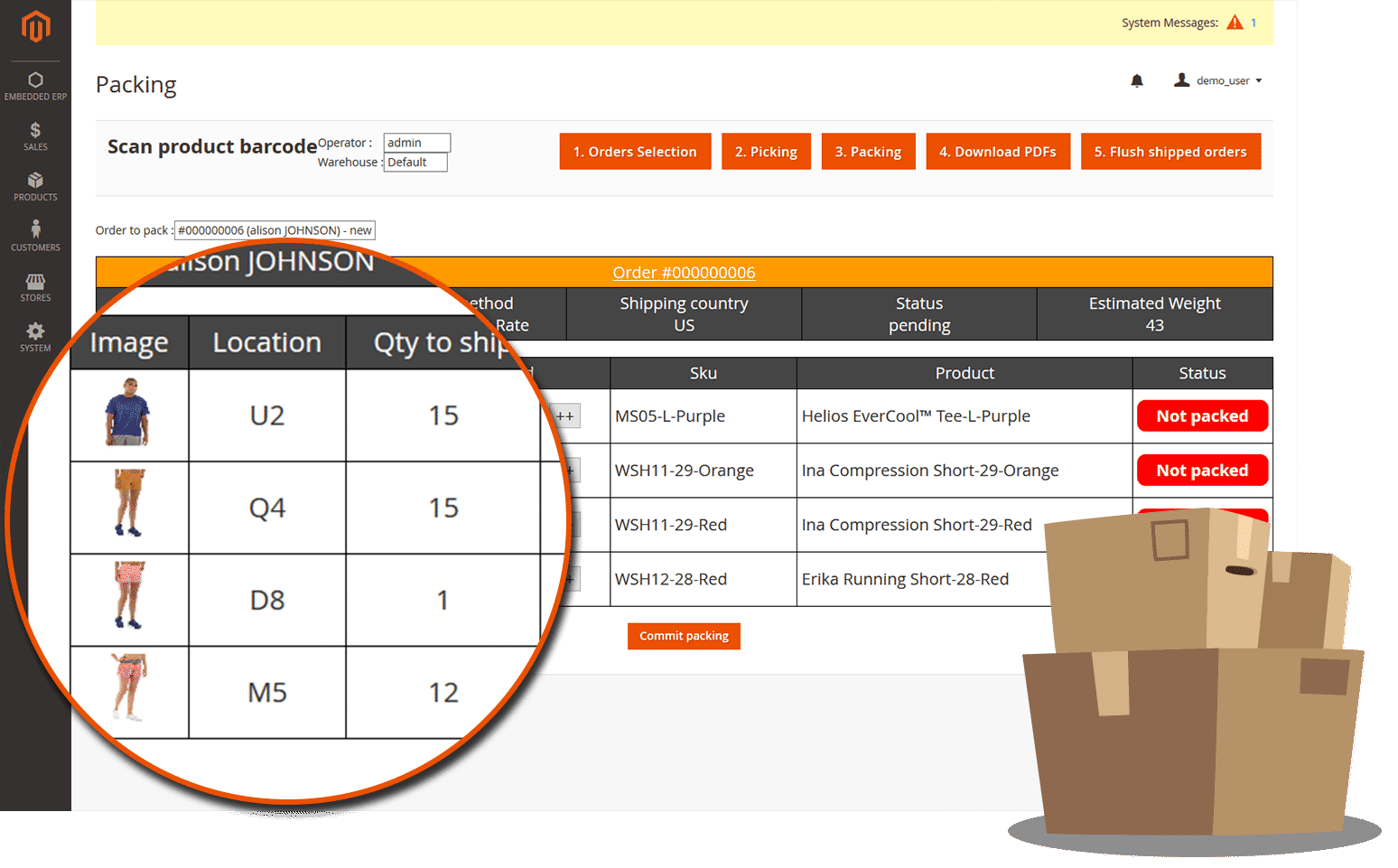 When all the products to ship to a command are scanned (in green), the shipment can then be validated.
Using a barcode reader is not required, the products can be added manually and validated shipments.
Shipping – Carrier label
Embedded ERP for Magento 2 avoids re-typing shipping information for a customer order.
Two possibilities to Automate the generation of labels and carrier tracking numbers (Tracking):
- Integration with carrier software: If your carrier offers dedicated software for data import to print your transport labels, you can export from Embedded ERP and in the desired format (xml, cvs, txt) information on your orders for a mass processing.
Reviews
Embedded ERP completely revolutionised…
Embedded ERP completely revolutionised our business and allowed us to grow massively without huge staff increases. The software basically gives you an entire business workflow out of the box and resolved issues that as a business, we had carried for years. Like many things that are extremely powerful, it took a bit of time to learn and configure to our needs, but we had an on-site installation ...
I am happy to recommend Boost My Shop
I have worked with numerous of their extension from the trusty Extension Conflict Catcher to Embedded ERP and many in between. As a Magento developer I use version control on all of my projects which allows complete transparency of changes made and I am happy to say these guys provide reliable extensions and when changes are required, these are made correctly and reserved to their extensions code. ...
Comprehensive ERP Solution for Magento 2
We have now installed and customised the Embedded ERP Module for Magento 2 for 5 clients. Every client has had different requirements, some required the advanced routing capabilities including some custom development to meet the client process. Others have found the fulfillment solution to be the strongest driver including the returns process (RMA) All installations have been quick and straight ...
Very robust extension
We purchased Embedded ERP Magento 2 from Boostmyshop and installed it on our latest Magento 2.1.4 release. This is a very robust extension packed with functionality. We purchase from several different wholesale distributors and drop ship from all of them. This extension will take us to the next level in procurement. The technical support from Boostmyshop has been excellent and very responsive when ...
---
---