Overview
Note : this extension is designed for Magento 2. For the Magento 1 version, please click here: Barcode Inventory for Magento 1
The easiest way to identify a product is by using a barcode scanner. With Barcode Inventory, you can scan product barcodes and update inventory quickly and accurately.
Barcode inventory supports all USB Barcode Scanners and offers 3 configurations to update inventory:
Increase: Each time you scan a barcode, the stock level is increased by 1. This mode is very effective for restocking or during purchase order reception.
Decrease: Each time you scan a barcode, the stock level is decreased by 1. This mode is mainly used to update inventory for sales.
Manual: Scan the barcode and manually enter the new stock level. This mode helps with stock intake and inventory control.
How does it work ?
To begin, you must configure Barcode Inventory to select the Magento attribute that contains barcodes. Once that is done, you can start using the extension.
Go into Menu> Product > Barcode Inventory, to prepare the system for scanning.
Every time you scan a barcode, the system retrieves the product. If no product is found, an error message is displayed and a tone will ring to signal that the barcode is unrecognized. If the product is found, product information will be displayed on the screen, along with the updated stock level.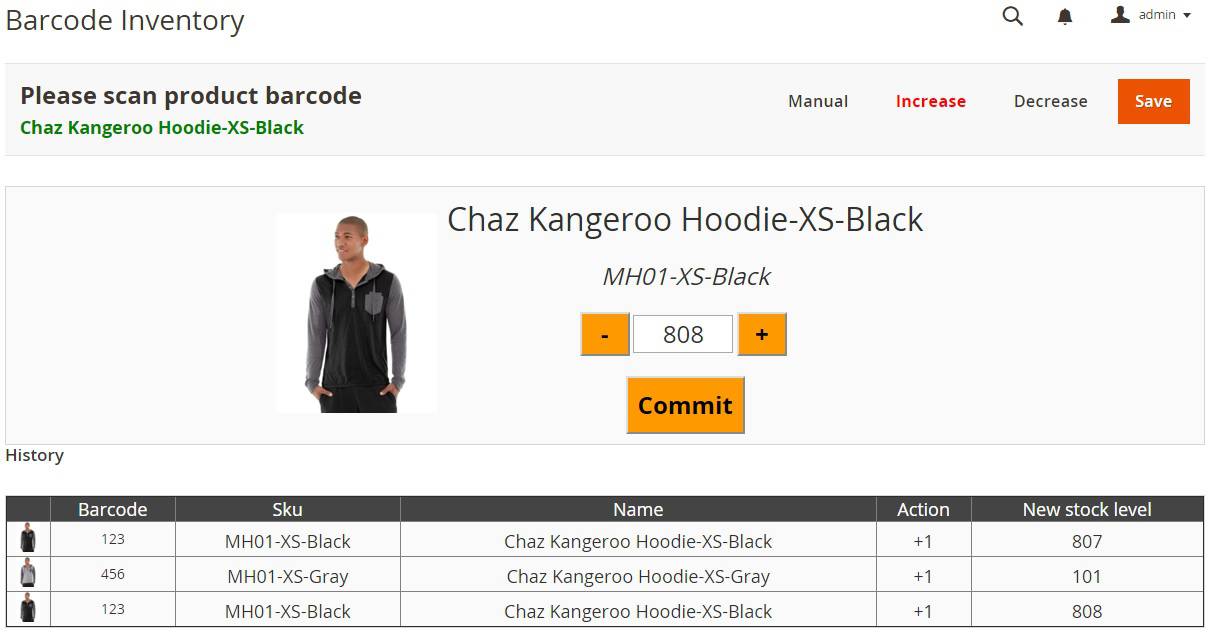 Each scan is logged at the bottom, with the product information and the new stock level.
Once you are finished with the updates, click on the save button to update product inventories.
Release
Reviews
Excellent!
I am very very happy with this extension. Very easy to work with. It is a great time saver! Adding a EAN is as easy as pie now. And new products need to be added, Scan and add. as easy as that!
Very good extension
Excellent extension, makes receipting stock using barcodes simple and fast. We can't live without this extension in our business!
---
---