Main features
- Barcode scanner supports
- A user interface optimized for touch screens
- Supports multiple payments, coupon codes and custom pricing
- Generates and automatically prints receipts
- Supports guest, existing and new customers
- Generates Z-reports
- Creates shortcuts to quickly and easily add best sellers to cart
- Allows for multiple users from multiple websites
- Store pick up is an integrated shipping method Note : for the moment this is only available for simple products
- Integrate a POS system in Magento
You can create an infinite number of physical or virtual deposits. Each submission is assigned a function as to whether the products associated with it are salable, deliverables, requiring changes ...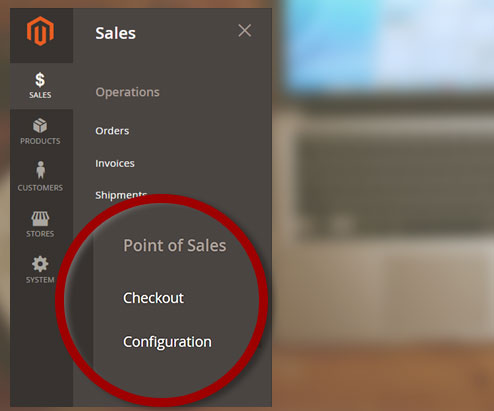 POS Menu
- Checkout : to place a new order
- Sales : to consult order history
- Customers : to get customer details and history
- Reports : quickly check main indicators and generate Z-Reports
- Settings : shortcuts to the configuration screen
Main Screen
- Change user & website easily
- Search for products and quickly access to the shortcuts
- Manage product options (quantity and price)
- Change the shipping method
- Select the customer type (guest / new / existing)
- Complete transactions and enter payment details
You can add products simply by scanning the barcode, making a product search or quickly accessing bestselling products via the shortcut buttons:
The store pickup shipping method is automatically selected making it effortless for you to deal with instore customers, although you can opt for another method (all magento shipping option) to process store to web orders if you need to do so.
POS is also automatically configured to guest mode, letting you place an order quickly and easily without inputting any customer information. However, you can still select an existing customer from the database or create a new one if you wish to do so.
Once the quote is ready, you can complete it simply by filling in the payment information: POS includes multiple payment methods, allowing you to file payment records by method.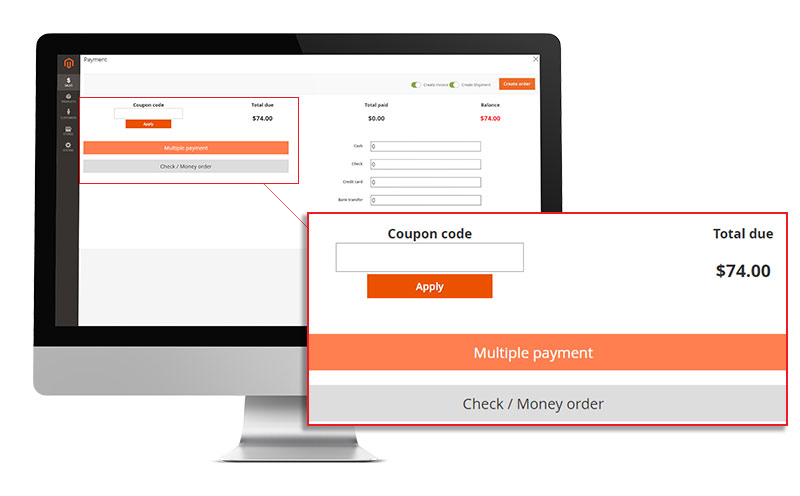 POS also supports the use of coupon codes to apply discounts and is compatible with magento offline methods (online method support coming soon).
Screenshot of the store switcher :
Sales Reports
The Sales reports menu brings together all the most important figures for your business.
- Turnover
- Transactions by payment method
- Best sellers
- per seller You can choose the time range for these figures simply by using the 'to' and 'from' boxes. You can also create an even more accurate report by printing the Z-report (usually generated at the end of each day)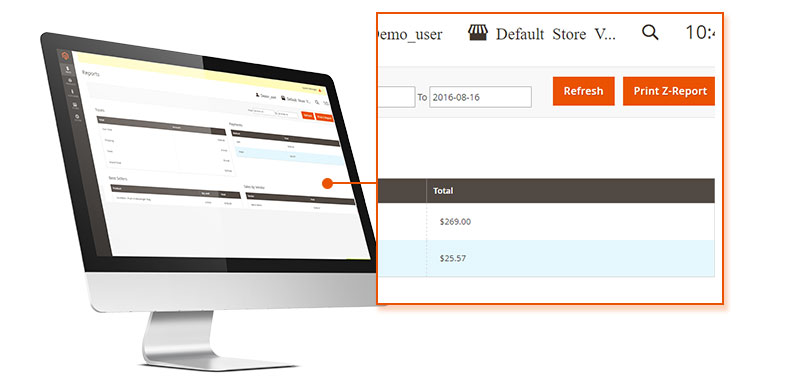 Z-report
If you need a more accurate report, you can print the Z-report (usually generated every end of day) :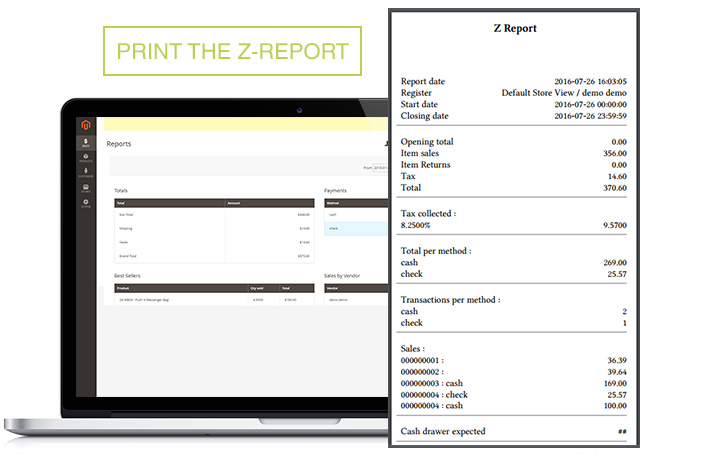 Release
Reviews
Excellent
This is the best POS sale we have found. We look forward to introducing into our business soon
---
---