Manage a Warehouse with Magento - How To
Overview
Magento is a great tool for managing your product catalogue, categories, customers and checkout. However, there is a huge gap when it comes to stock management. To fix this problem, you must use a third part software (an ERP) that will properly manage stocks. However, such a solution requires synchronisation between Magento and your ERP system. The solution is our Embedded ERP: a Magento extension that enhances stock management in Magento, you don't need any other software, everything is done within the Magento admin panel. So there is no synchronisation, easy training and will save you lots of time. Embedded ERP is the ERP the solution with the best ROI !
Multiple warehouses
A warehouse is a place containing many products : multiple warehouse support is a very interesting feature and is the answer to several different requirements for example
If you store products in more than one warehouse
If you own a physical store and a website - you may have separates warehouses
Import supplier stock levels - if you do drop shipping
Keep track of damaged items or products you might have out on loan
Each product can be monitored in one or several warehouses : for every product / warehouse association, our Embedded ERP has the following features for product stock management, preferred stock level, low stock alert threshold, physical stock, virtual stock, shelf location and much more.
Each warehouse can be assigned to its own or to multiple websites. This defines if a product is saleable on the website and whether orders are fulfilled from this website or another.
Last, an amazing feature named "Router" automatically assigns sales orders on items depending on different rules:
Product stock level
Prefered warehouse
Default warehouse…
You can also override this behaviour to implement geo localization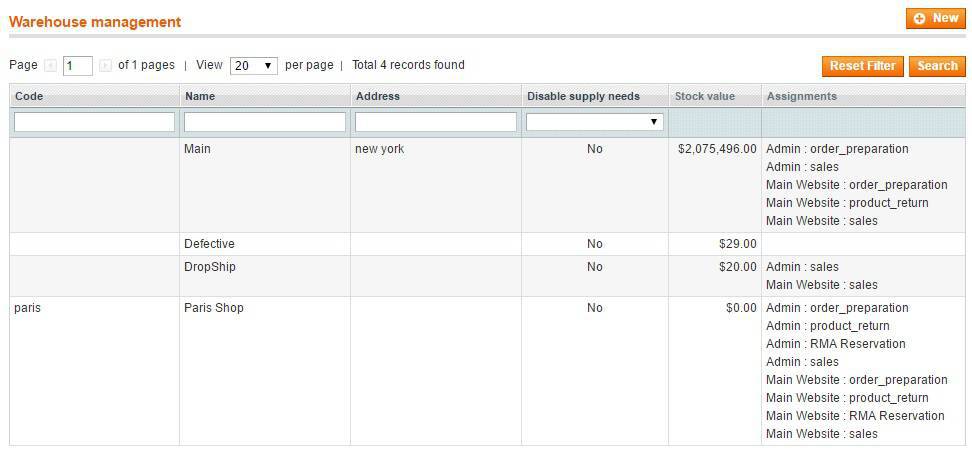 Stock movements
Every time stock levels change within a warehouse, a stock movement is created to keep track of the products stock level. The majority of the stock movements are created automatically (when you received a purchase order, when you ship an order, when you put a product back to stock from a RMA…) . You can override the system to manually when you have exceptional cases for example: damaged products, loan / hire of an item or inventory error. You can also define the reasons for a manual stock movement.

Barcodes
Delivery, picking, packing, shipping, inventory: all these processes are usually slow and secure to avoid errors. However barcodes are here to save us! Embedded ERP allows you to manage several barcodes for each product, print the barcode using a laser or thermal printer and can be used with a handled scanner, with touchscreen or smartphone to easily and safely ensure workflows related to stock :
Delivery : when a purchase delivery arrives, simply take your handled scanner, select the purchase order on the screen and read all products barcode. Once you're done, the "create delivery" button will update stock levels according to your reads.
Picking : once logistic operator has selected orders to full fill, he needs to pick product in warehouse to pack orders. To help him to be more efficient and select the right products, the picking menu on handled scanner display all necessary products sorted by shelf location.
Inventory : the inventory menu allows to perform an inventory task / stocktake quickly and easily
Product information: Simply walk through your warehouse with your handled scanner, scan any product to obtain product information, stock levels and location …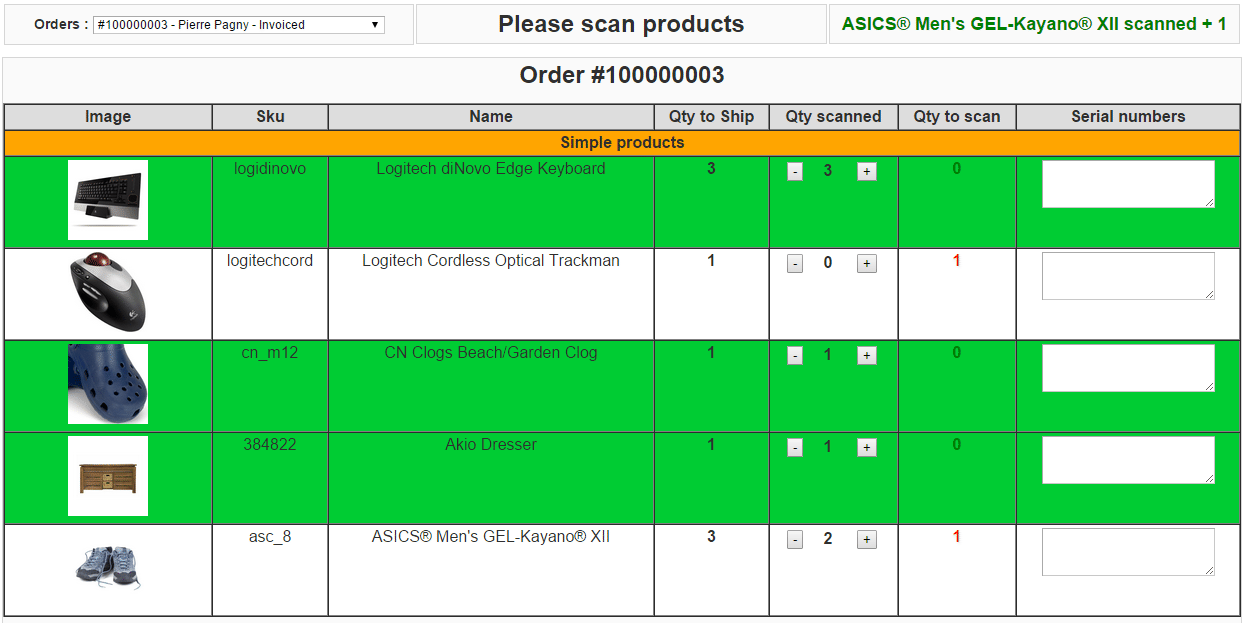 Related products
| | |
| --- | --- |
| | Embedded ERP is a set of Magento extension to manage from you back office all your stock, purchasing and logistic processes. |
| | |
| --- | --- |
| | Manage your product returns from sales orders, manage statuses, notify customers and create refund or product exchange ... |