MSI vs Embedded ERP M2
For any Magento 2.3.x version
Stock management is an essential part of any online sales business. In its latest version, Magento natively integrates an advanced inventory management for all e-commerce. You will ask: is there still an interest in keeping an ERP on your Magento 2 instance?

To answer this question we compared our Embedded ERP extension for Magento 2 and the MSI solution: compatibility, features, support and price. Discover our comparison ERP Magento 2 vs. MSI.
Find out more
What is Magento MSI ?
---

Since versions 2.3, Magento introduced a new pack of features title MSI for Multi Source Inventory.



This new bundle aims to provide a solution for merchants fulfilling orders from different sources : sources can be shops, warehouses or also vendors / suppliers. You can then combine different sources (aka stocks) to define the stock sellable on a different sales channels.



The strength of MSI is to provide algorithms to optimize the selection of a source for an order placed on a sales channel. Currently, there are 2 algorithms available :
Source priority : algorithm will select the first source matching requested products
Distance priority : this algorithm selects the closest source based on the customer location (shipping address). This can be done offline (using Distance priority) or with Google Map.
MSI also provides all API to update sources from an external system.



Magento MSI has been designed to support merchants will a large network of shops where orders can be fulfilled from to optimize the cost of shipping.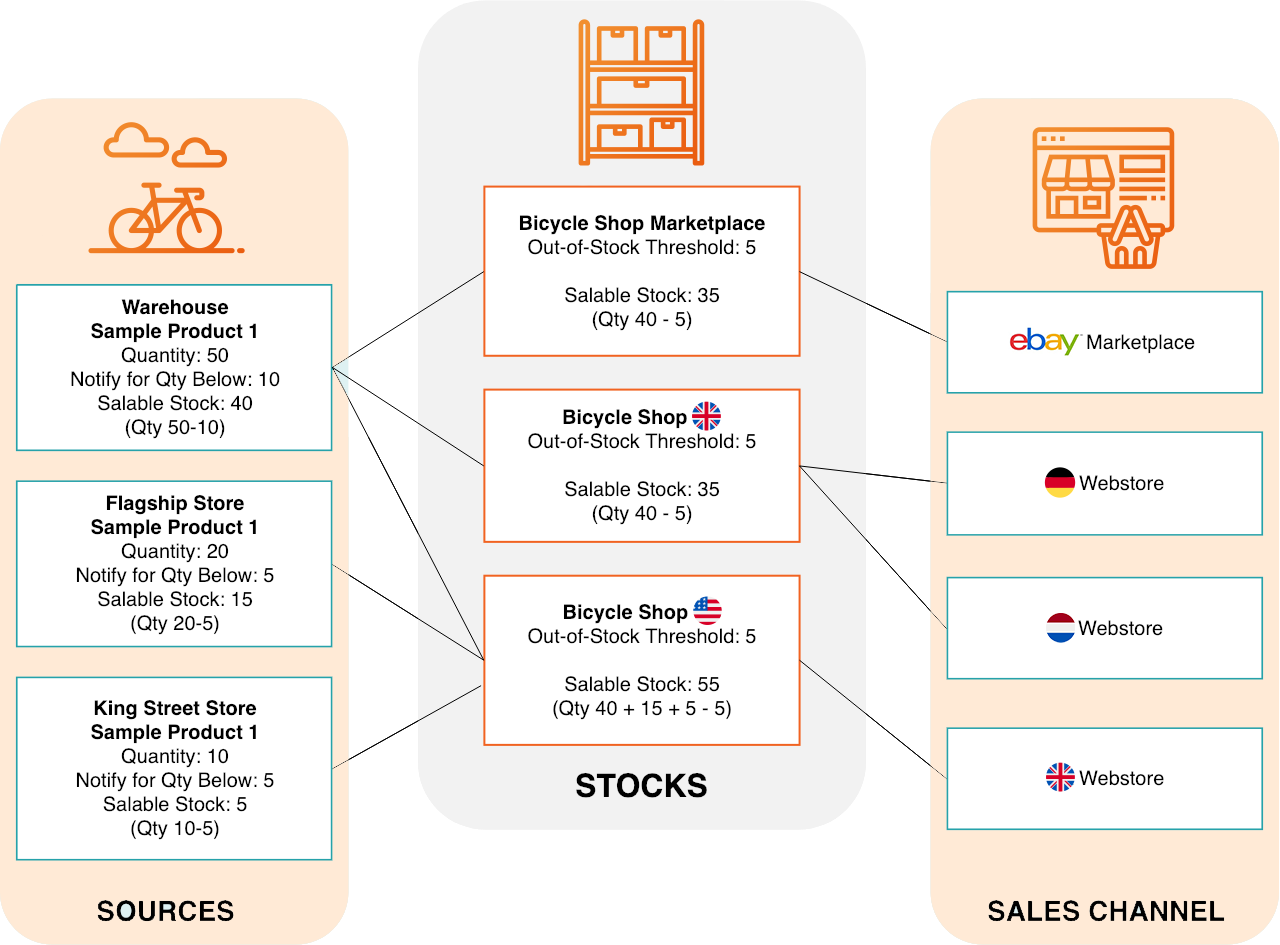 What Magento MSI is NOT ?
---
Magento MSI is not an inventory system neither an order Management System : it is designed to be connected to third party software like an ERP to manage stocks from the sources (shops) and an OMS to fulfill orders.

Magento MSI is mostly an architecture to manage the feeds between warehouses, sales channels and fulfillment software : naming MSI as an architecture means that is it not plug and play, and must be considered as a component in a more global project.

Find out more
Can we compare MSI and Boostmyshop Embedded ERP ?
---
The short answer is "no", even if both systems provide mechanisms to manage sources (warehouses) and sales channels (stores), the approach and the features are very different.

Embedded ERP has been designed to manage all merchant requirements from the inventory management, purchasing and order fulfillment parts.

Embedded ERP is a ready to use and self working module when MSI is a technical component that you will use in a complex IT project.
Features

M2 compatible
Sources management

Sources

Warehouses
Support large # of sources
Combine sources
Source selection algorithm

Priority / distance

Priority
Stock management

Stock movements, stock take,
stock transfer, import/export
Supplier, purchase orders
Pick / Pack / Ship
Drop Shipping

Development required
Why Boostmyshop recommends to disable MSI for Embedded ERP users ?
---
Both MSI and Embedded ERP provide the features to manage sources/warehouses and combine them to sell on the channels.

Embedded ERP for Magento 2 exists from the beginning of 2018 and is deployed on thousands of M2 website. We have decided to keep our warehouse implementation and not use the Magento MSI one to maintain only one version of our plugins for all our merchants.

Moreover, Magento MSI is easily removable as explained in the Magento documentation.
Note
For very large merchant, Magento also provide an OMS solution which is somehow comparable to Embedded ERP.
For the Magento OMS solution, it is also required to disable MSI.

Contact us
---

Chat directly with our team in live

Centre d'Affaires Grand Var
1110 Chemin des Plantades, 83190 La Garde

+33 (0)9 72 28 64 51

contact[@]boostmyshop.com
---
Share and follow us !