A 360° Sales Analysis
Magento makes it possible to conduct a routine analysis of your sales, clients, and products. However, the data is presented in the form of graphs that cannot be modified and that can be difficult to interpret.
The Ultimate Reports extension is an interface that allows you to navigate through your sales statistics quickly and easily. It gives you complete control to manipulate your data so that you can track your sales turnover and its relationship to a given product or brand. You can also filter your results for a specific window of time (days, months, years) and view your daily, monthly, or yearly sales within a customized time frame.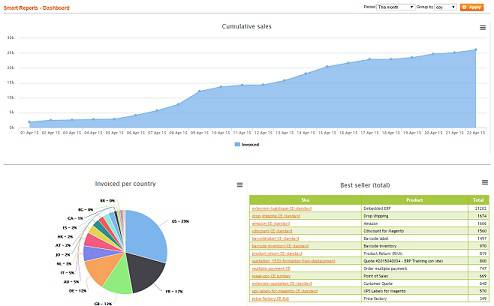 All graphs can be configured to a specific time period and saved in a PNG, JPG, or PDF format. Ultimate Reports is fully integrated to your back office and gives you access to over 30 different sales report options. This versatile tool helps you to assess your market, to drive sales, and to make decisions that will enhance the future growth for your business.
Ultimate Reports is fully compatible with Magento. The reports are available in a dedicated menu, as well as in Magento's product details.
Complete Analysis Reports
The dashboard gives you an instant overview of your business activity.
Define a time frame and filter results by day, month, or year. In the blink of an eye, Ultimate Reports produces:
-Your total sales
-Sales by country
-Your 10 best-selling products
-Your top 10 customers
-All processed refunds
Once an overview has been produced, Ultimate Reports offers several ways to conduct a more detailed analysis of your sales data.
Over 30 different reports to choose from: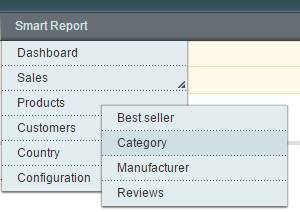 Sales
Products
Customers
Country

- Total sales
- Sales by payment method
- Sales by shipping method
- Refunds

Best sellers
Sales by product
Cross-sales by product
Best and worst-rated products
Sales by site/country
Average sales price evolution
Sales by category
Sales by manufacturer

- New customers
- Breakdown by group/country
- Top customers
- Products purchased per customer
- Total sales per customer

- Total sales
- Top customers
- Top products
A Few Snapshots of Ultimate Reports:
You will find the sales breakdown by country in the dashboard. Click on the country name for further details.
You have a top-selling product for the month. Click on the product name for a detailed analysis of its sales trends.
You have a top-purchasing customer for the month. Click on the customer's name for a detailed account of their purchases.
Ultimate Reports Advantages
Ultimate Reports allows you to embed each product analysis you conduct directly into your product details page.
Do you need to analyze the results for a specific product? With Ultimate Reports, you can easily find every statistic you need regarding your products. Observe your business performance up close and drive sales accordingly!
Clickable Graphs and Reports
Don't get stuck with a pool of global data that you cannot interpret because you do not understand the underlying details. Ultimate Reports is an interactive tool that provides you with the big-picture data up front, and then allows you to customize your analysis in a few clicks!
Downloadable Reports
Your data can also be downloaded to an Excel spreadsheet for an even more detailed analysis.
Reviews
Indispensable
Cette extension permet une analyse fine de l'activité sur notre site, autant au niveau vente que produit. J'apprécie particulièrement le dashboard personnalisable et l'intégration des rapports dans la fiche produit et client. Plus que recommandé !
---
---