Overview
Manage conflicts between extensions
A magento plugin is natively designed to rewrite magento behaviour.
This way you can download magento extensions to build a unique magento website.
But Sometimes same extensions are trying to rewrite the same basic magento feature, so the first one will take over : a conflict extension will appear. You'll face a high risk of bug, lack of performances, strange Magento behaviour or crash.
Magento Extension Conflict helps you to manage conflicts :
• List all existing conflicts on your magento website
• Display the solution to fix the conflicts
• Keep trace of resolved conflicts for future upgrade You can also test if an extension will raise conflicts before you install it !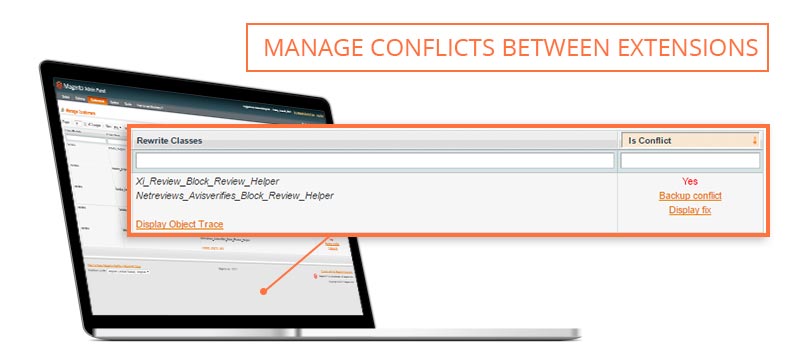 Reviews
Très pratique
Extension efficace qui fonctionne parfaitement ! Un gain de temps important dans la résolution des conflits. Il manquerait peut être juste la possibilité d'exporter les résultats au format CSV (dans le cadre de la rédaction d'un rapport ou d'un audit par exemple).
Works as described
Works as described
Très pratique
Facile à installer et permet de voir les conflits entre modules. Les indications pour résoudre les conflits sont simples et efficaces.
Very good service
by Benjamin Folkmann Hansen
Very good service
smart extension
the only bad thing is that i didnt found this before..
Pretty good - Does what it is suposed to
Good for the price.
Une extension qui m'aide beaucoup
Facile à installer et à utiliser, cette extension m'a déjà, aidé par égard aux autres extensions que j'utilise ou je voulais utiliser. Merci !
Does what it says on the tin!
Very handy module. Definitely worth the small price to save time trawling through modules to find the conflicts.
efficace mais pas assez documenté
efficace mais pas assez documenté
Très bon
Très bon produit
---
---