Overview

Who is this product for?

If you are an e-merchant or physical storeowner and would like to manage them all using the same software, POS Point of Sale turns your computer or tablet into a true ePOS!
How does it work?
Extension Pos Point of Sale for Magento adds an interface to your back office that allows you to process sales in your physical store(s). It automatically updates all information from sales made either online or in-store, in real time and in one place.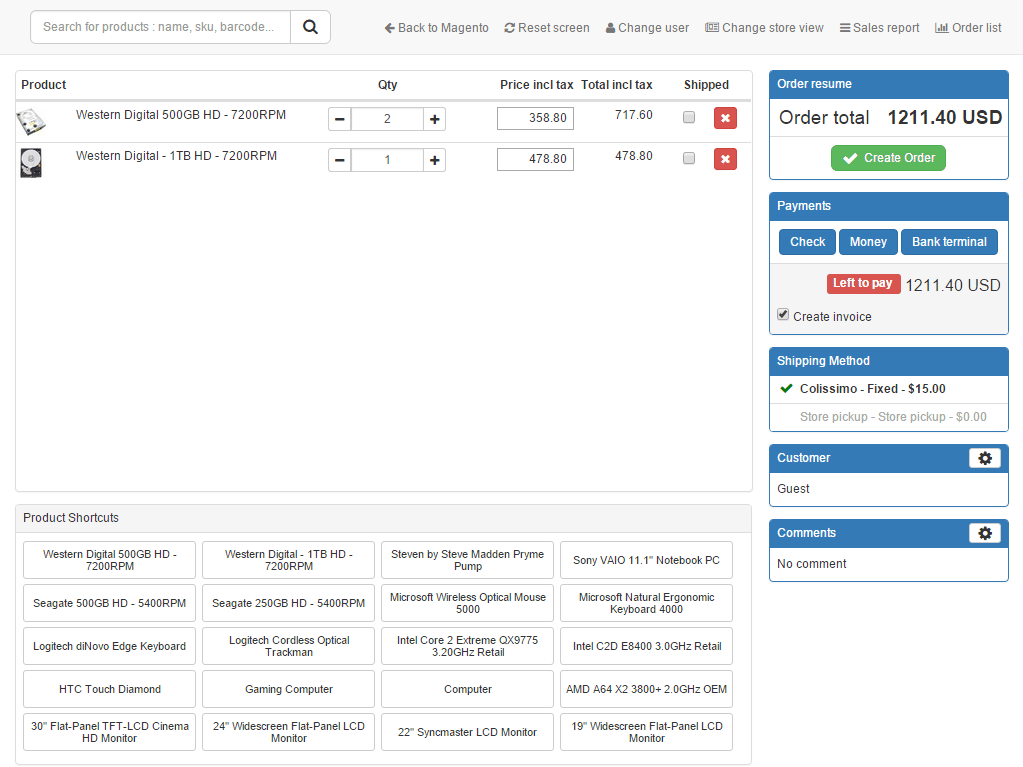 Process orders quickly
There are 3 available methods to help you save time:
Product scanning: All you have to do is equip your computer or tablet with a barcode reader. Your products can then be scanned and automatically added to orders.
Search-engine tool: When barcodes are cut off or unreadable, you need to be able to search for the product either by reference number, product name, or brand. The search-engine tool includes a predictive search feature that suggests products as you type, which is also a major timesaving tool.
Quick access to products: If you are an e-merchant that sells products without barcodes, such as take-out food, a product short cut list allows you to view your products in an organized format for easy order processing.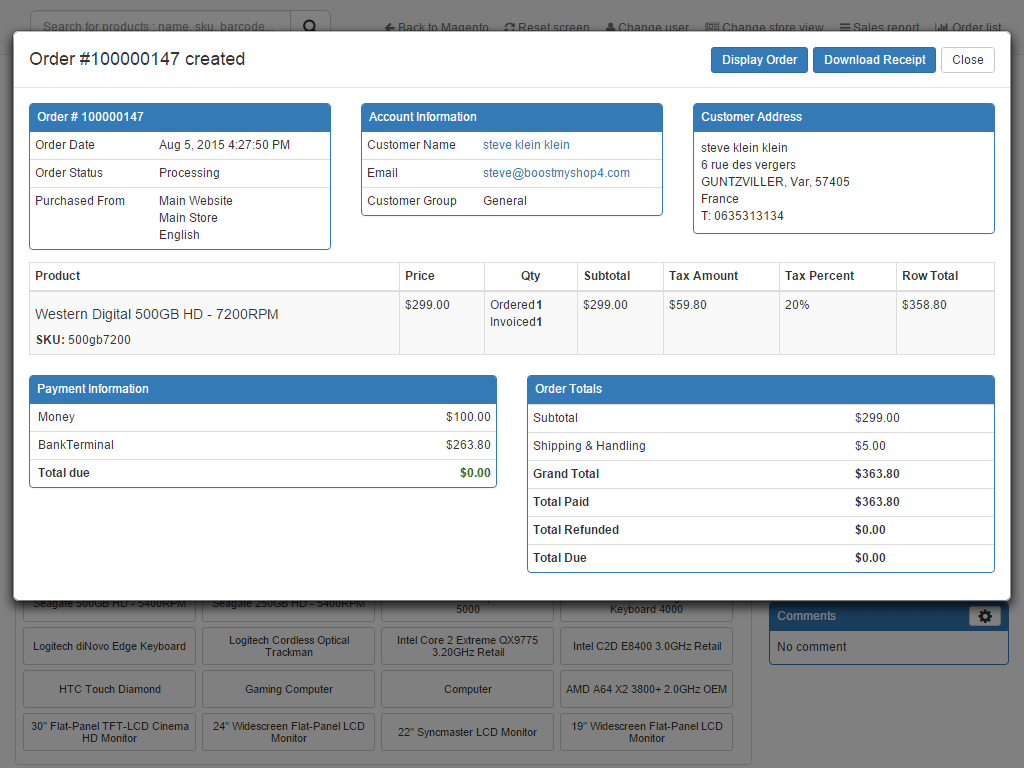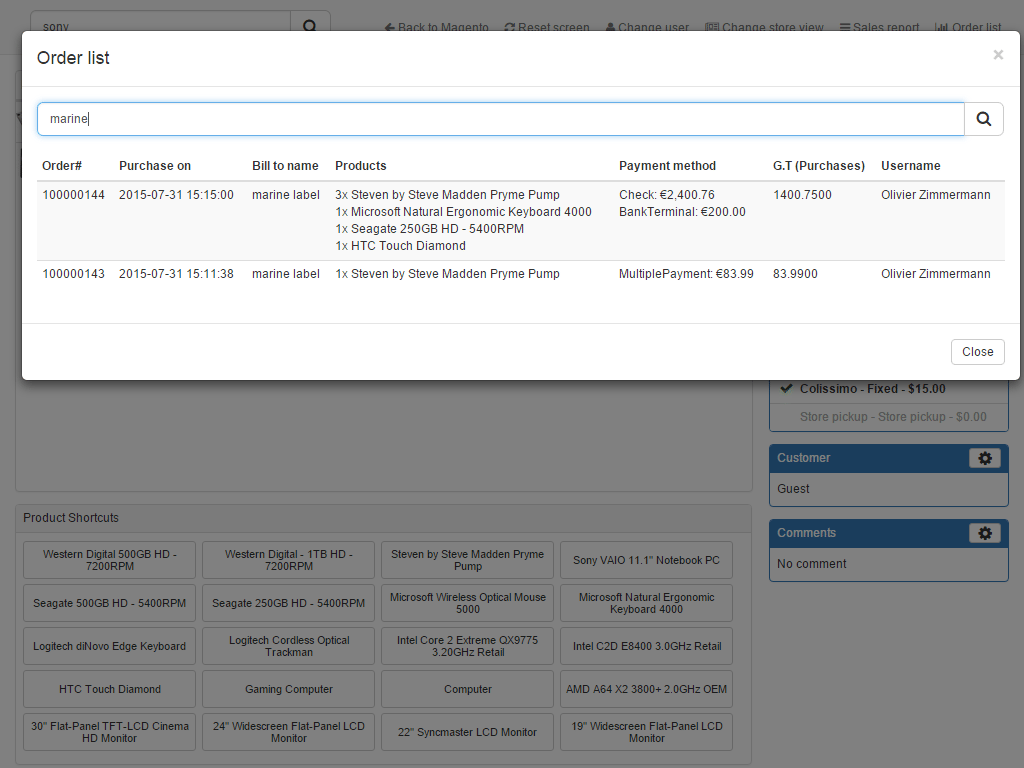 Configurable product management
With Magento Pos Point of Sale 2.2.2, you can manage and select your configurable products in one click.
If you sell clothing, for example, you may require a simple way to organize your products based on size but also manage pricing based on other criteria.
This is all possible with Point of Sale's latest version!
User/seller administration
A user administration panel can be accessed directly from the Point of Sale interface for efficient activity tracking.
Employees can quickly and easily identify themselves at any moment on the POS system.
This feature allows you to collect accurate data on your sales.
Customer management
The customer management tool is another new feature of our version 2.0. Whenever you are processing an order, you have access to a client identification panel with 3 registration levels:
1 - Guest: With this mode, you do not have to register the customer's contact information and can process the order directly.
2 – Customer account creation: You can create a client account quickly and easily without having to leave the Point of Sale interface.
3 – Customer identification: If a client already has an account, you can look them up easily using the customer database search tool.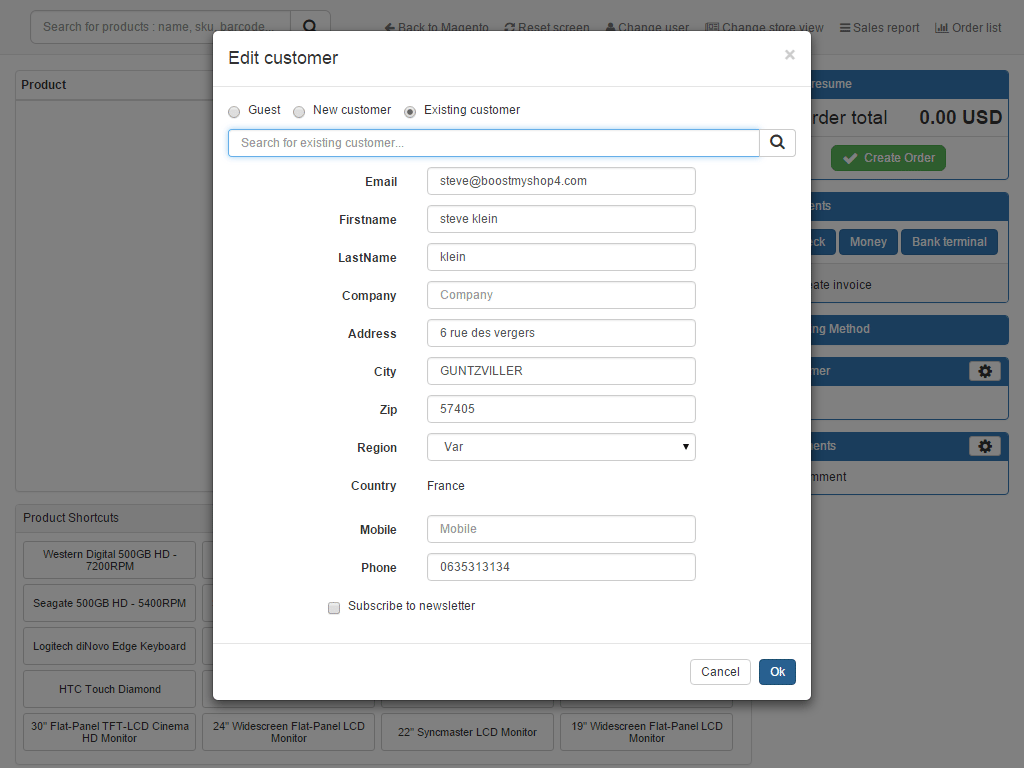 Multiple payments
The multiple-payment tool was created as a response to feedback from Point of Sale 1.0 users.
As merchants and e-merchants provide more services, the multiple payment option becomes important.
Using this tool, you can register a payment with two different bankcards, part cash and part check, or with two checks.
The system calculates the remaining balance and informs you when the full payment has been received, and the order can be validated.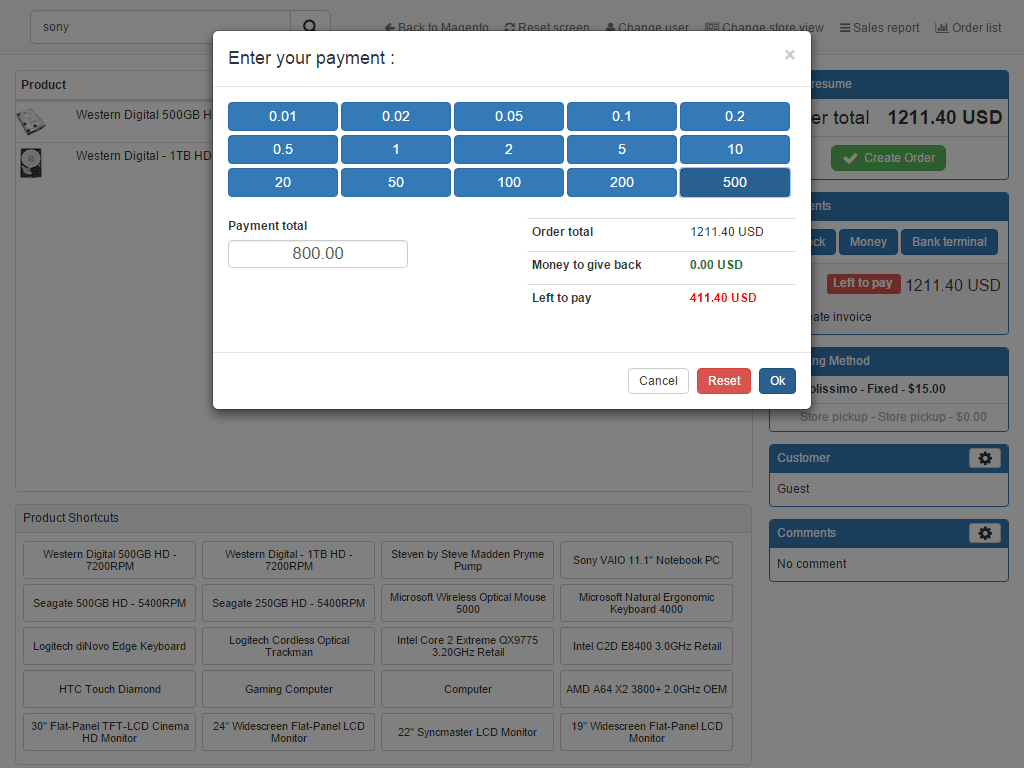 Z-report
If you need a more accurate report, you can print the Z-report (usually generated every end of day) :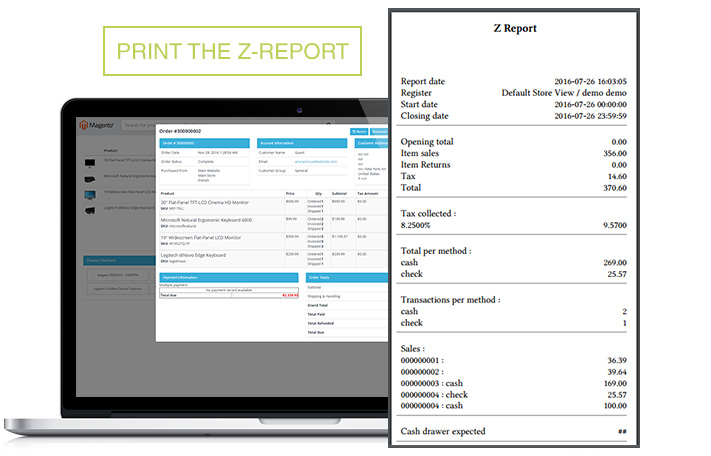 Conclusion
ePos Point of Sale is a Magento extension that allows you to create new orders quickly and easily. All Point of Sale operations are available from a Magento page on your POS monitor.
Add products to the order by scanning their barcodes (with a standard barcode scanner)
Choose product quantities, payment method, and delivery method easily via the tactile interface
Create an order using the guest mode, existing client mode, or by registering a new client
Automatically generate bill and delivery form
Automatically print bill or receipt (compatible with thermal printers)
Customize prices
Add comments to bill or order
Features not to be missed!
Compatible with thermal printers
Generates sales reports filtered by payment method
Supports multi-website management for your boutiques and sales points
Includes exchange calculator for multiple currency management
Releases
New POS 2.2.2 .january 2016
1. Multi-till management, Multi-user
If you have multiple Tills in your store or multiple stores then POS now supports multi-site and/or multi-user: Just create one store view per case
2. Returns Management
This new version includes a management to facilitate returns: By going back to the command, select the products that are returned as well as the repayment method: a refund is automatically created in Magento with a negative payment online to ensure accurate sales report at the end of the day.
3. Customize the interface
POS Magento extension Adjusts the colors of your company by incorporating your own logo and selecting a background image for your favorite POS tool, the only limit is your imagination!
4. Advanced Management of discounts
This new version allows you to manage discounts at 2 levels: either a product item or for the entire order. In both cases, you can specify the discount percentage or absolute value.
5. Manage third price
POS now supports Multiple Magento Price: this allows you to apply different prices depending on the customer group (eg retail vs wholesale)
6. Reporting
Follow live sales per till, per store and per user using integrated sales report: by store, by hand or by seller, all the details are available!
7. The command of the cash summary
The command of the cash summary allows you to initialize your cash at its opening with the existing cash.
By late afternoon, the sales report lets you know the amount that should be present in the box.
Reviews
parfait
il vous reste encore quelques bug de traduction mais autrement presque tout y est !
Parfait
Rien à dire, le module ultime !!
ideal pour mon magasin
simple rapide efficace comme tout les produits que j'ai de chez vous. vente plus rapide au comptoir
Perfect for small online offline stores!
Simple and easy!!
Good Ext
It does what it says on the box and the support was excellent
Très bien
Ce module nous a facilité la tache lors des ventes magasin, avec une édition de facture rapide et facile.
Great Extension
The extension works great. There was a few minor issues, but the support was great, as well as the posts on the forum If you have a online site and also do Point of Sales, this is definately the extension to choose. Future improvements should be inclusion of shopping cart rules. And coupon codes. http://www.nailmania.dk negle til alle
Our customer needed one system
For one of our customers, we implemented a Magento webshop. One of our biggest challenge was to use the webshop not only for e-commerce but also in a physical store as cashregister. Our customer needed one system (webshop + cashregister with barcodescanner) and not a seperate cashregister system. We were thinking about developing our own extension and then came across the "Point of Sales" exten ...
Not is compatible with Custom Options
This module not is compatible with products create with custom products attention !!
---
---