Presentation

Product Return RMA 2.0.5 is a management extension that offers great flexibility in setting milestones and conditions for Returns.
Fully integrated with Magento, you can manage settings by web site (English, French, German …) and process requests coming directly from the management interface.
Configuration
The configuration parameters are divided into five sections.
General : determines product return agreement and communicates the number of days during which customers can apply for product return.
This feature is available for all web site types.
The other 4 sections, Emails, Product Return, PDF Option and Predefined Messages, have features that may be different in the context of a multi-lingual site management. Your product return strategy may differ from one country to the other therefore also your settings.
Emails : Assign a type of email based on predefined actions. Email sender, refused or approved product return ...
Product Return : Set rules and conditions for product returns
PDF Option : Insert all required information to create your return form automatically (Company, address, comments …).
Predefined Messages : Message that should appear in the comment area.
Features for Buyers
From his account, the buyer has access to product return menu that is activated upon receipt of the merchandise.

The customer clicks on the order and sees the details. Each product is detailed with:
A possible action : Refund, Exchange, after sales support ...
A justification : Purchase order mistake, size issue, defect ...
Comments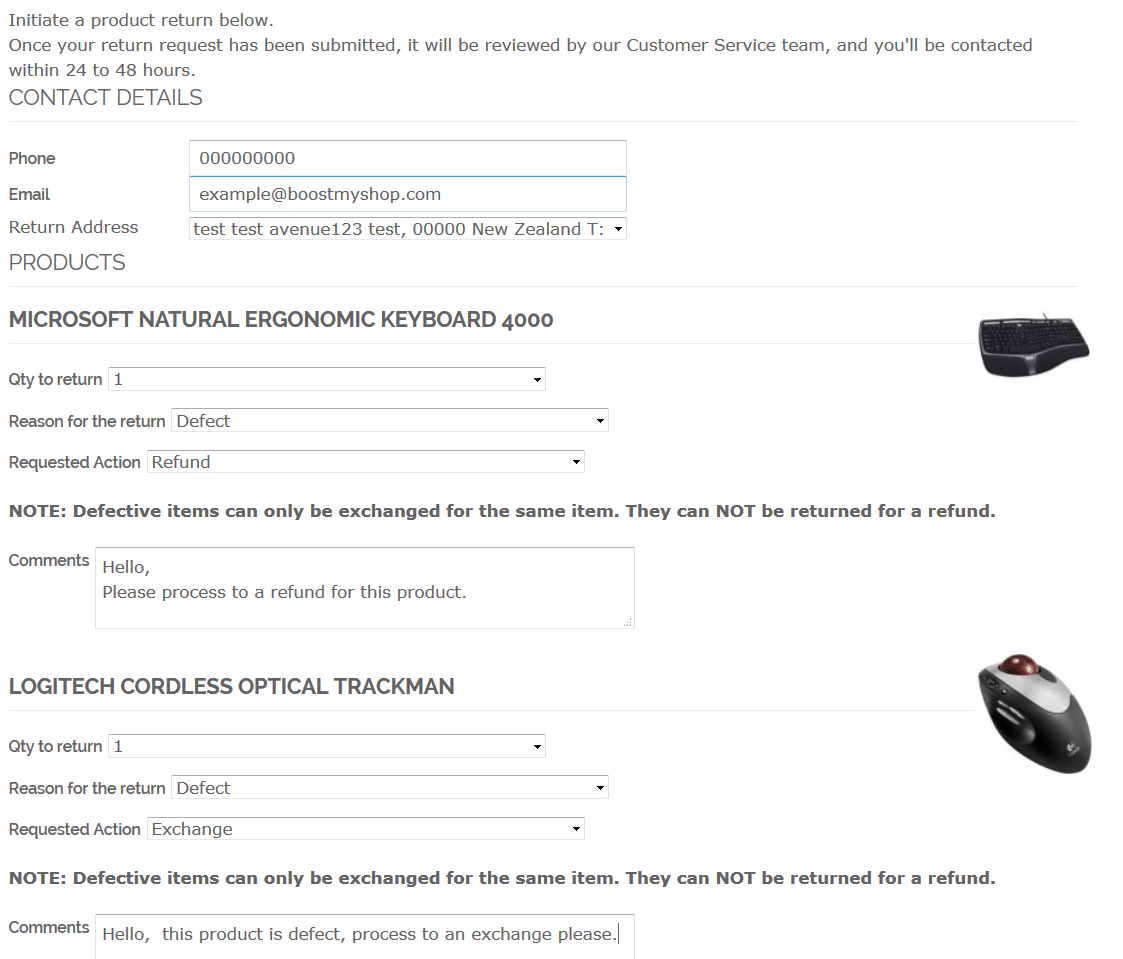 Once request is approved, and according to your configuration, the product return form is made available or the customer must wait for the handling of his case. Customer will be informed both by email and directly in his account and, if acceptance of his request, he will receive a Product Return Form and the return carrier label.
Reminder : A product return is possible only once the purchase order has been invoiced and sent.
Features for Ecommerce
In the « Order>Product Return » interface, you can see product return requests.
From « RMA » menu, you have a set of sub-menus that allow processing of individual cases.

General : Customer information summary and requests
Historical : Log of product return actions related to a purchase order.
Product booking : Book another product in the case of an exchange. By doing this, you establish a direct link with your inventory and you can quickly check if your product is available or not.
Return label : Return label is saved here. Buyer must print and insert it in his package.
Return approval
From back office, you can approve or reject a return request. In both cases, the customer is informed by email. Once approved, your client has to return to his account in order to print the return form. When you receive the returned products, you can inform the customer regarding the progress status : Product received, expertise in progress …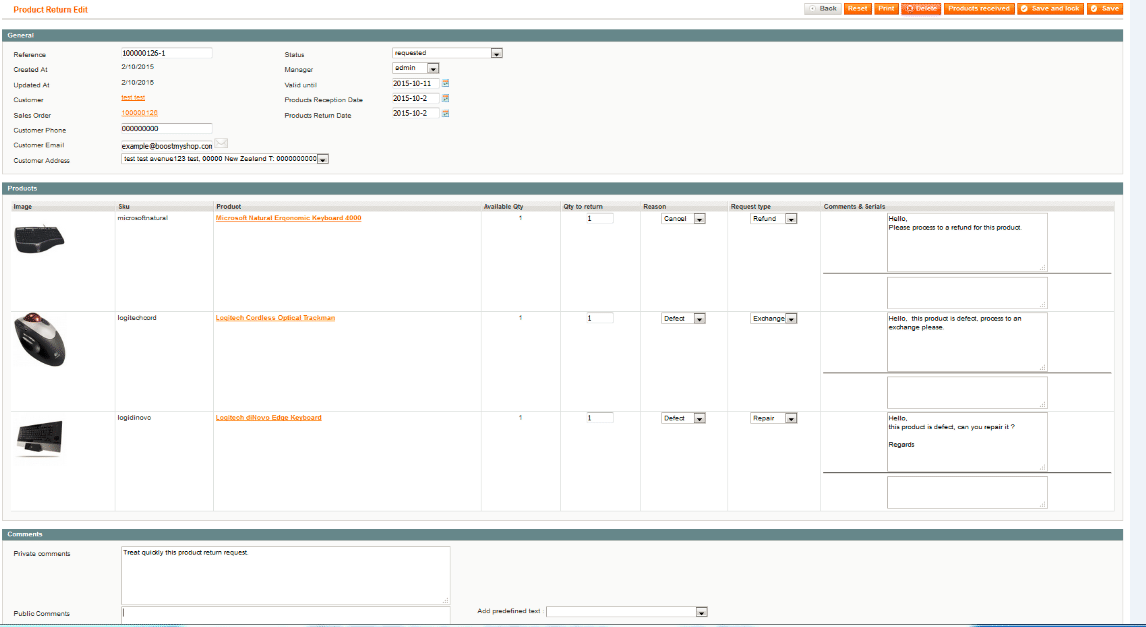 Handle Returns
For every product in RMA, you can trigger multiple actions:
Refund customer : A credit line is automatically created and the products are restocked.
Exchange with another product : A new purchase order is created for the new product and the returned product is restocked.

Benefits and additional extensions
Product Return RMA values ecommerce experience and evolves according to your needs. Its main assets are:
Product booking for a future return
Set of a valid date for a return
Inventory management (restocking, destruction) : Action selection for the returned product.
Invoice additional services such as after sales support
Automatic log of all actions completed for product return.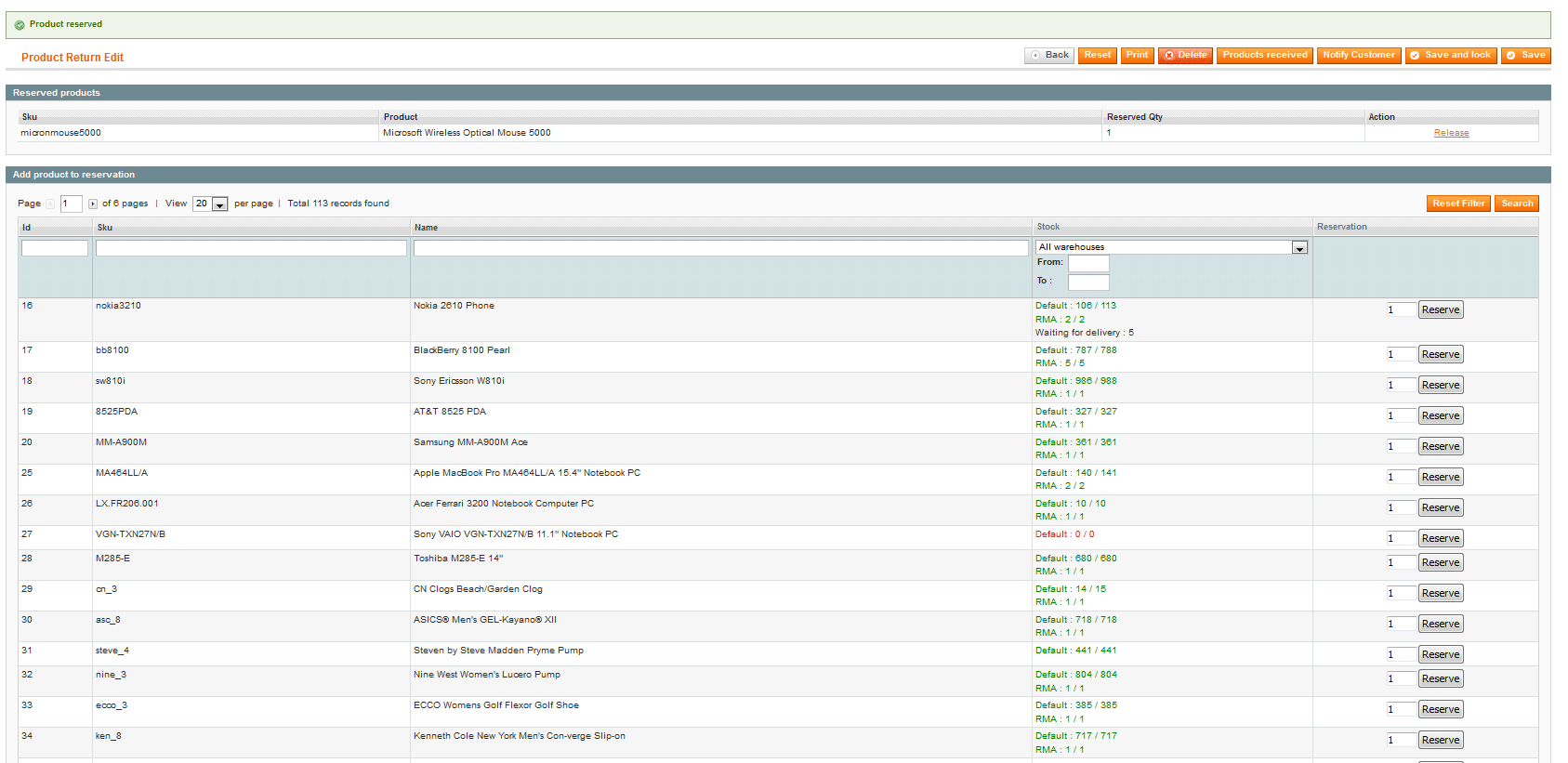 With Additional Extensions Embedded ERP and CRM Email you get a fully optimized end to end management of your ecommerce supply chain
With Embedded ERP you can
Track product bookings in inventory management, view and recognize revenue due to purchase orders and monitor products in the case of RMA request.
Collaborate with extended teams on RMA tracking (after sale, delivery, sales). Installation of the ERP package will add the "organizer" feature in the Product Return RMA menu developed to exchange messages on the product of related client.
With CRM Email you can communicate and track customer requests by email integrated into the RMA menu of the Magento interface.
Reviews
Excellent Tool
Was able to integrate into our operations with ease. Was able to reduce time for processing RMAs by at least 50%.
Excellent RMA product
We had been using a different RMA product and we were reasonably satisfied with it. After a while we found some holes in the processing and made us look for a new product. Boost my shop has everything we were looking for. The biggest benefit is the ability to swap products in exchanges right from the RMA. The only thing missing is refunds directly from the module. Very happy with product w ...
Awesome
These guys know their stuff. Their extensions are not your normal run of the mill - but complicated bits of software - it is the main reason why we use magneto. They offer excellent & friendly support - keep up the good work!
Fonctionne parfaitement et sans modifications !
Nous venons de la mettre en place, elle fonctionne très bien, on peut tout paramétrer, et il y a toutes les fonctionnalités qui sont requises pour un RMA, possibilité d'activer ou non les retours via le front office, c'est bien pensé ! Merci BMS !
Ok Product
The extension is good and works well except the refund does not actually do what is advertised by the developers. on the refund option it allows you to choose which card to refund to but it actually does not work and is something the developers are looking to add later.
les client gere eux meme leur retour maintenant on s'y retrouve
nickel pour la gestion des retours clients
Indispensable aussi !
Indispensable à qui veut offrir un support de qualité et qui s'accomode avec le module de Gestion des Achats - Stock - Logistique. Ne pas passer à côté de la formation boostmyshop pour bien maitriser les outils.
Good Ext
It does what it says on the box and the support was excellent
Works but poorly presented
The module works, but the presentation is very lacking. There is an unnecesary installation of transactional emails into the database that might conflict with existing templates. Also the actual templates are not present in the locale folder. Finally, the configuration must be manually changed and there are no defaults provided in the config.xml file Another poor aspect is that the translat ...
Fantastic
Has made product returns a breeze especially when coupled with the ERP Extension
---
---