Summary
Centralize your email inbox within Magento
When a customer sends an email to your Customer Service department, CRM E-mail automatically creates a ticket in Magento. This gives your Customer Service team easy access to the tickets requiring a response and their replies are sent directly to the customer via email.
The customer can respond directly to your Customer Service team's reply, and their response will be added to the ticket
Service tickets can be organized with status labels such as, "Waiting for customer response," "Waiting for administrator response," or, "Closed."
CRM E-mail is compatible with POP and IMAP email servers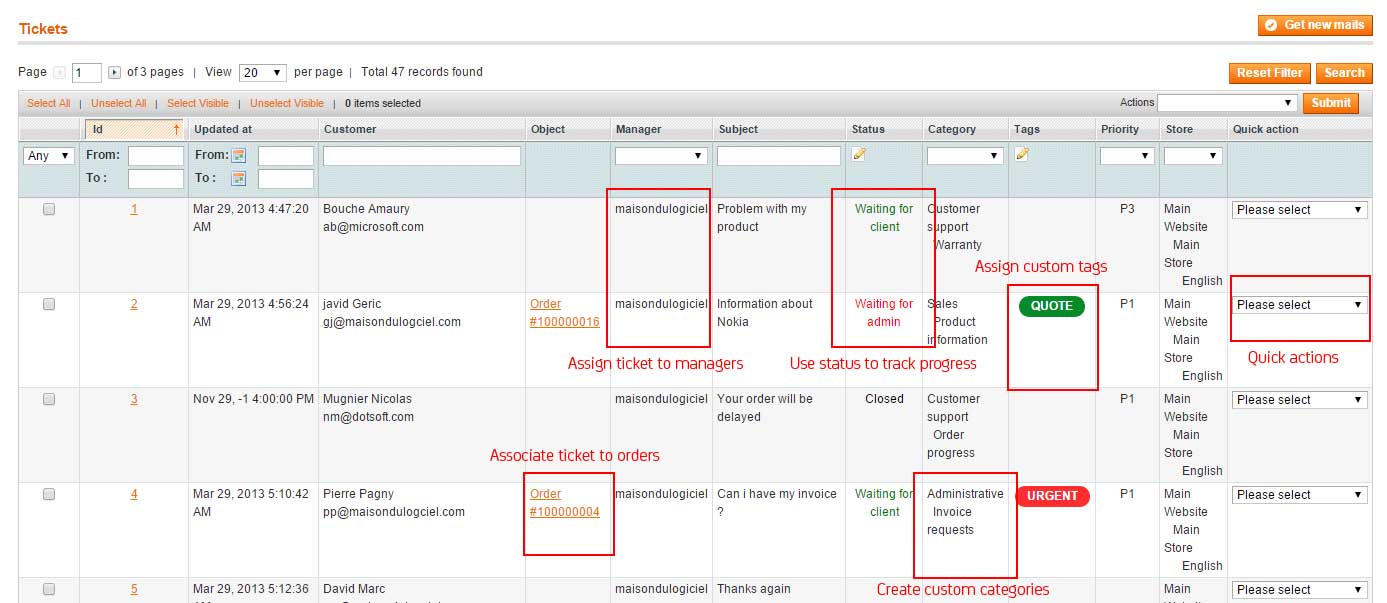 CRM E-mail adapts easily to your organization
Every company has a different approach to customer service. CRM E-mail was developed to adapt to each individual business's needs. You can define your own categories (departments), status tags, priorities, and administrators and create your own method for treating each new ticket according to your settings.
CRM E-mail is a singular solution to streamline your Customer Service department :
- Automatically assigns service tickets to an employee for treatment
- Streamlines communication by directing messages (email, contact form) to a central inbox within Magento
- Enhances employee efficiency by including all information needed to respond to the customer (customer profile, orders, etc.) This feature prevents the loss off important details that can result from the transfer of information between several sources and inboxes.
- Also includes a personalized tag management system to organize your tickets
Provide high-quality customer support
CRM E-mail centralizes all important service ticket details on one page (customer information, past communications, order information, previous orders) so you do not have to navigate throughout Magento to find the information you need.
With one click, you have access to the customer's order history, including payment and shipping status, as well as all written exchanges with the customer.
On top of this, CRM E-mail's customizable auto-responses, account signatures, and WYSIWYG text editor allows you to provide efficient and high-quality customer support.
CRM E-mail is also compatible with our RMA and DEVIS extensions.
Track your Customer Service staff's progress and efficiency
You can track your staff's progress with the built-in report system, organized by status code or administrator.
Features
Configuration

Compatible with IMAP and POP (including SSL)
Supports multiple email accounts
Configurable ticket categories
Customizable auto-responses and signatures
Priority management
Status, administrator, category, and priority definition
Customizable email format
Integrated SPAM filter

For the customer

Integrated contact form with criteria selection (category, priority)
Service ticket history available in customer profile
Management of attachments

For the administrator

Tickets can be filtered by administrator, status, or tags
Easy to reassign tickets and send an auto-response email
Ticket list on customer account pages
WYSIWYG editor
Search page for tickets by customer name or order number
Customer account page provides overview of all related information (orders, quotes, RMA)
Management of attachments, easy to download and view
Customizable auto-responses
Customizable tag management
Download invoices and shipping receipts directly from the ticket
Reviews
Look no further !
If you are in search of a high-performing CRM, look no further! Prior to using BoostMyShop's CRM Ticket, we tried a Helpdesk extension from another developer and it was very difficult to configure. I would say that one of the best features is that it groups all tickets from one customer. You are also able to import your historical emails (and the CRM extension will group those tickets the ...
Good functionality and well built
This works very good and have a lot of good use. Can be more functions, but overall very good.
---
---