Summary
Why automate price adjustments?
The minute you offer a product for sale on your website or an online marketplace, you come into competition with other vendors offering exactly the same product.
As a response, Amazon selects one vendor for each product to be the "Buy Box" winner and this vendor is given priority over others via increased visibility on the website. The selection process is based on an algorithm that takes into account a wide range of information about the vendor, such as buyer ratings and the number of sales made. The vendor's sales price is not the foremost criteria.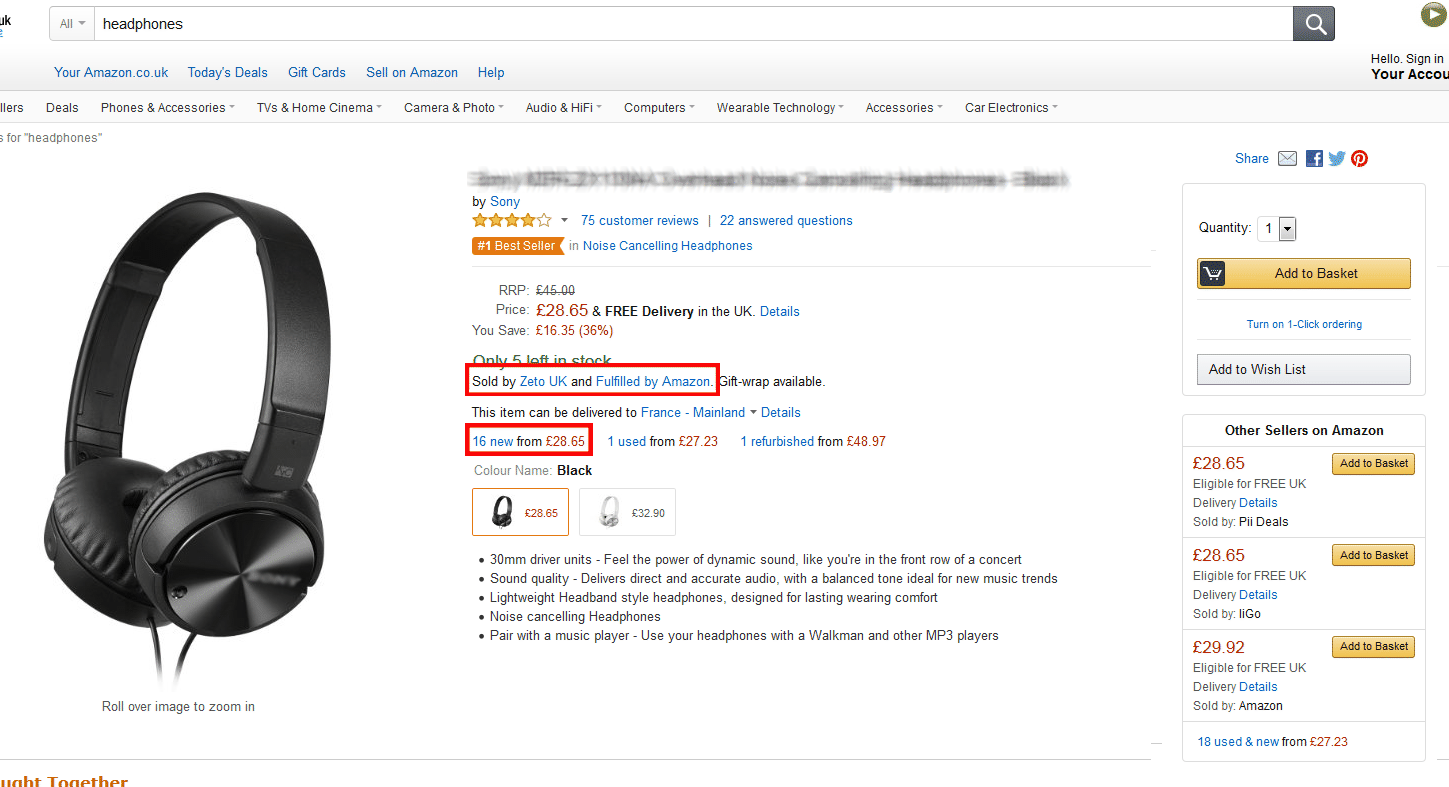 (Buy Box winner on Amazon)
However, even a minimal price adjustment can help to advance your placement among the competition and increase your sales.
Sales Price Calculation
Repricing and profit margin, the inseparable duo
As e-merchants ourselves, we know that making price adjustments without securing your profit margin can lead to disaster. The trick is to account for ALL of your internal and external overhead costs so that you can define a minimum sales price for each of your products.
Smart Price is the only tool on the market that considers Amazon's commission among your overhead costs:
Purchase price and delivery costs
Shipping fees to customer
Additional logistical costs
Amazon commission
Taxes (VAT)
Once your overhead costs are defined, you can configure your profit margin by product type and performance mode. A "cautious" performance mode, associated with your minimum profit margin, is applied by default, but you can also choose a 'moderate' performance mode with a lower minimum profit margin.
Price Adjustment
Prices decrease and, more importantly, increase automatically!
The automated price adjustment tool works in several different situations:
When you are the only vendor of a given product, nothing holds you back from raising your sales price!
When your direct competition is more expensive, Smart Price raises your price just enough to maximize your earnings, without compromising your position on top of the competition.
When another vendor is less expensive, and your profit margin settings allow, Smart Price lowers your price just enough to put you in first place.
Smart Price will never make price adjustments that lead to profit loss, unless you have configured it to do so.
You can also configure Smart Price to maintain your first-place position, regardless of the consequences to your profit margin.
Identify the Competition
Smart Price is not only able to seek out your competitors on online marketplaces such as Amazon, Cdiscount, and Bol, but it can also scan the web, the way Google Shopping does, to find competitors on all sales channels. The different subscription levels provide you with limited or full access to these features.
The Smart Price tool uses a sophisticated correspondence algorithm to locate your products for sale online. Once your products have been located, they are monitored regularly to provide information on your competitors such as their sales price, shipping fees, position, name, number of sales, and rating.
Once it has become familiar with the competitive environment for your products, Smart Price can begin to adjust prices automatically, according to your settings.
Custom Settings
Smart Price is fully customizable to give you complete control over your price adjustment policy. Every detail including product monitoring, overhead calculation, minimum profit margin, minimum/maximum sales price, and competition consideration can be configured according to the product's brand, stock level, weight, category, and price. In other words, you can establish your conditions according to the product details of your choice.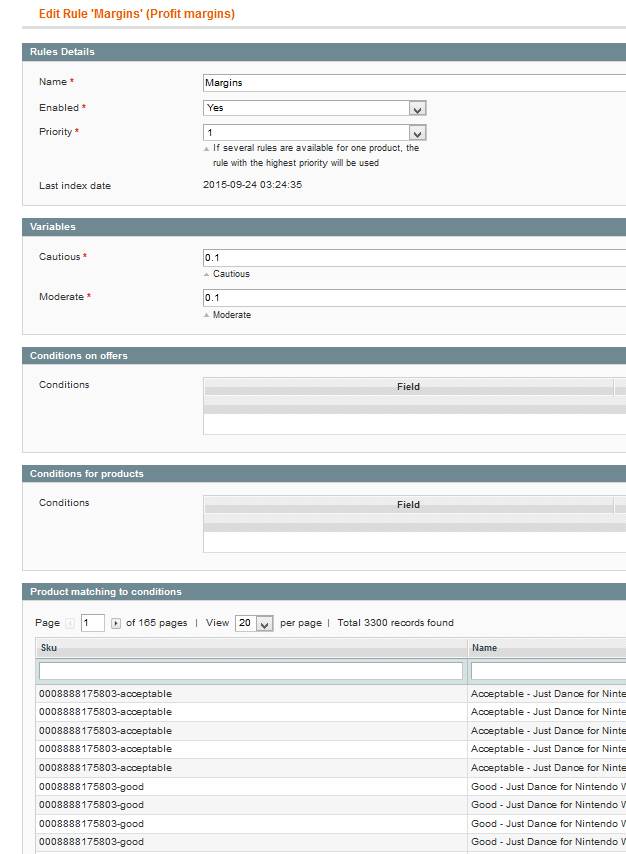 (Minimum profit margin)
You can also customize your settings to establish different performance modes per product, brand, category, etc.
Customized performance
Manage sales using customized performance modes
Smart Price includes 3 standard modes of performance:
The "cautious" and "moderate" performance modes allow you to control price adjustments according to a minimum profit margin of your choosing. For example, the cautious performance mode might ensure a profit margin of 35%, while the moderate performance mode would allow for a lower minimum of 5%.
The "aggressive" performance mode disregards any profit margin minimum in order to keep you on top of the competition. This mode is ideal for liquidating stock.
Take orders!
Once you have customized your settings, Smart Price automates the sales price calculation and adjusts your prices in function with the competition and your configurations.
From the "Price Assistant" dashboard, you can:
View your position for each product (top seller, challenger, or bottom seller)
Identify products for which you have the potential to become the top seller
Apply a specific performance mode by lowering your profit margin on certain products in order to be awarded the "Buy Box"
Consult the required profit margin to obtain the "Buy Box"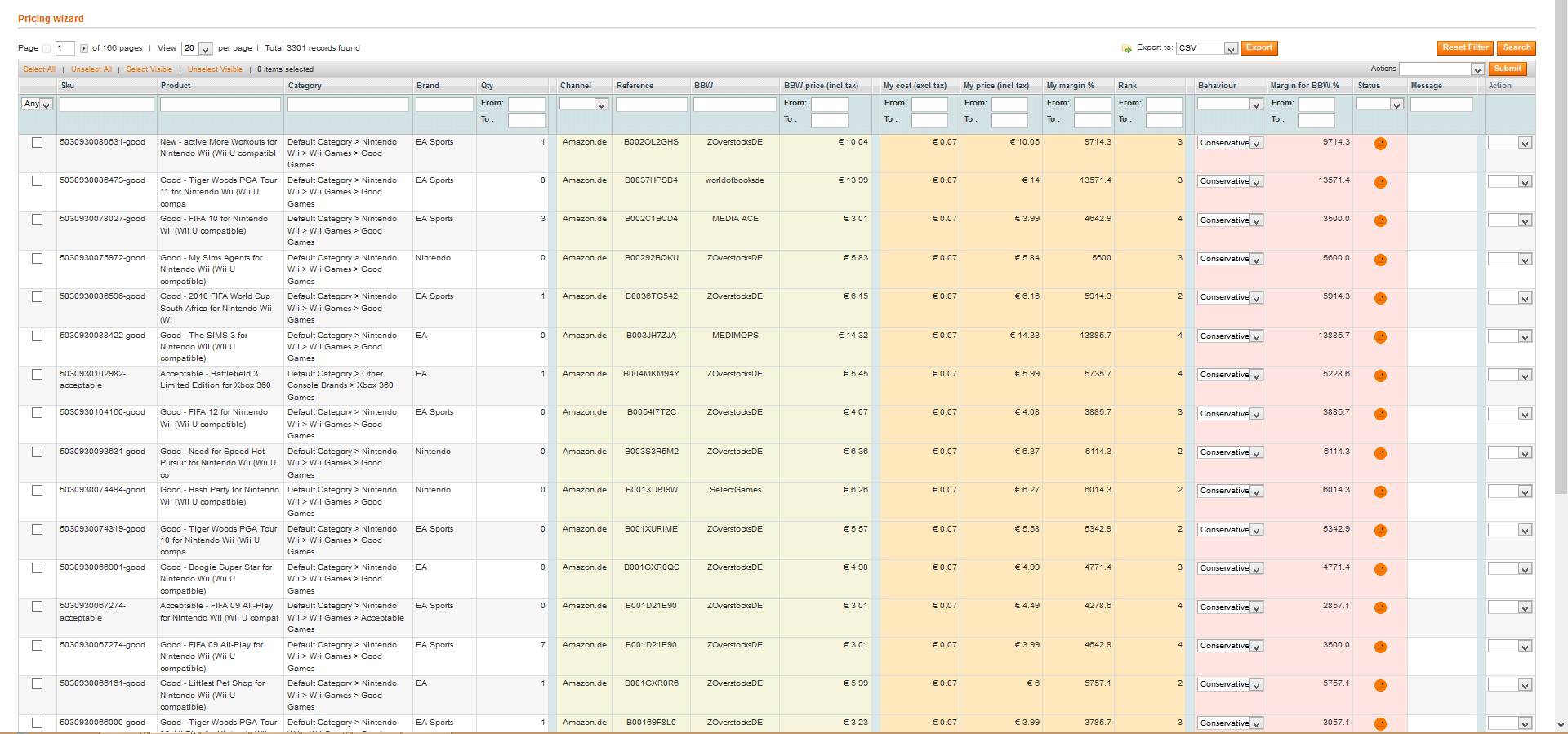 (Price Assistant - Global)
With a few clicks, Price Assistant allows you to apply a predetermined performance mode to specific products. With this tool, you can adjust your prices to become the top seller, while maintaining complete control over your profit margin!
The competition analysis reports can be filtered by brand, category, sales channel, etc., to inform you of your competition's placement along specified criteria.

(Competitor Analysis)
Analysis and Statistics
Obtain a thorough analysis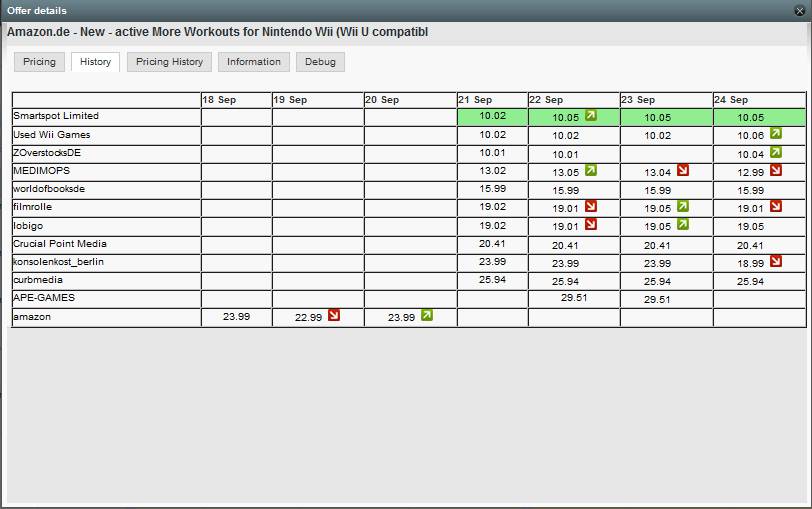 (View for one product)
Click on a product name to view the offer details and other important information:
List of principal competitors
Product cost details (purchase price, delivery cost, additional fess, commission, taxes)
Current offer status, net profit, and position among competitors
Required profit margin to obtain the top seller position, with the option to apply it in a single click
The "History" page displays the price evolution for each product and by competitor:

(Competitor history)
The "heavy-lifting" work of competitor identification and price algorithm application is directed to own server to protect yours from being overtaxed.
The final calculated prices are then saved in the Magento attribute of your choice to be exported by a data flow manager such as:
BoostMyShop's Amazon & Cdiscount extensions
M2EPro
Lengow / Shopping Flux / NetEven
Testimony
From Mickael, pharmaceutical products vendor
"With Amazon's growing success, online competition has become ferocious and it is humanly impossible to track and adjust prices at the rate necessary to keep up. A price adjustment tool is essential for my business and keeps me from having to hire an additional full-time employee.
Having tested several different price adjustment extensions, BoostMyShop's Smart Price is the only one that has taken into account my overhead costs and kept me from making sales below cost. Their awareness of the needs the e-merchant has helped them build a tool that is more than just a mathematical algorithm.
Also, the dashboard is great for daily monitoring and making informed decisions.
In the last 3 months of using Smart Price, I have completely eliminated all sales below cost and tripled my profits on Amazon!
Thank you, BoostMyShop!"
Reviews
La solution de repricing prometteuse
Après avoir cherché de nombreuses semaines un outil de repricing automatique pour un client, je dois dire que la découverte de SmartPrice a été un vrai coup de cœur ! Et voilà près d'un an que nous utilisons la solution SmartPrice qui permet un ajustement très précis des prix de l'intégralité d'un catalogue produits sur chaque canal (place de marché) en fonction des prix de la concurr ...
Works great
We have been using Smart price for a few months now. It takes some time to set up and fine-tune it. But once that is done, it works and does what it needs to do! Prices are always up to date, adapting to our competitors, Not selling to high, but also not to low. Support works great! Tickets are resolved really fast, and they think in solutions. I would recommend it!
Solid Repricing Solution for a Very Reasonable Monthly Fee
Smart Price just plain works. We got it configured and enabled...and immediately started seeing revenue growth as our Buy Box Percentage jumped by 150%. And...with Smart Price's fair pricing model, we actually get to keep the increased revenue, rather than it being siphoned off via a rev share.
Everyone Needs Smartprice!
After spending alot of time and money trying other solutions i came across Smart Price. They offered me a walk through demonstration with a very informative and knowledgeable member of staff, After seeing the demo it was clear that this was what i needed. Other solutions out there dont have the level of functions, compatibility with Magento and level of service Smart Price has. Technical support i ...
Great Product & Great Customer Service
The Boost My Shop team have been excellent! When installing a new add on you always expect problems , however with smart price we had none . Any questions i had where answered extremely fast and in detail. Smart price is taking us to the next level whilst giving us complete confidence in our pricing strategy
Indispensable
Avec le succès d'Amazon, la concurrence est devenue féroce, et il devient humainement impossible de suivre et ajuster ses prix par rapport aux concurrents. L'utilisation d'un outil d'ajustement de prix est pour moi un pré-requis, et m'économise 1 ressource à plein temps. Après avoir testé différents outils d'ajustement de prix, seule la solution de boostmyshop m'a permis un ...
---
---